Reviews National Holidays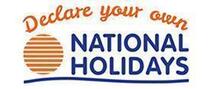 Have you been searching for a holiday or a holiday package? Would you like to go on holiday, but not sure about which destinations you'd like to visit? How will you know which destinations you should choose without having visited it before? You'd need to use an online travel agency. One such company is National Holidays. How do you know If this company is reliable and trustworthy, or that the holidays it advertises are of good quality? Reading customer reviews of people who've used National Holidays before will help you to know what to expect and make up your mind on whether you will use the services of National Holidays to book your next holiday.

About National Holidays
National Holidays is an online travel agency that specializes in short-term holidays and getaways. Their offices are based in Cheltenham, Gloucestershire, England. They offer coach holidays, trips, and tours in the United Kingdom and Europe. Their holidays on offer range from weekend and city breaks to showtime breaks. These include West End shows, Legends of Music and comedians. Special event tours are also available such as flower shows and air shows. There are sporting tours available for horse racing, rugby, eventing, football, motorsport and tennis. It also offers family tours to the United Kingdom and Europe's best theme parks and attractions. Other holidays on offer are seaside breaks, trips to Scotland's sights, around Ireland, exploring Europe on mini-cruises and a 15-day adventure coach tour, and river cruises along the Rhine, Moselle and Danube rivers in Europe. All accommodation offers home comforts. Coaches used all feature reclining seats and seat belts, as well as air conditioning. Popular destinations include Belgium and The Netherlands, Austria, Switzerland, Budapest, Poland, Czech Republic, France, Italy, Germany and Spain. They allow customers to search for holidays by type too, such as day breaks, countryside and heritage tours, bank holiday getaways, Christmas tours, Easter holidays, and all-inclusive holidays.

Products and Services of National Holidays
Payment methods accepted by National Holidays are credit and debit cards and their payment service are protected and secure. Upon booking a holiday, National Holidays requires deposits. These range from £50 to £250 and the balance of the holidays are payable 6 weeks before departure.

Compliments, Complaints and Tips about National Holidays
Have you booked a holiday with National Holidays before? Was their booking service straightforward? Were you able to find your holiday easily? Did they accept your preferred payment service? When you arrived at the destination, was it as advertised on their website? IF you needed to make changes to your travel dates, were National Holidays able to help you? Were they friendly and did they solve your problem? Would you recommend National Holidays to your friends and family? If you have answered any of those questions to yourself, we would love to read your thoughts, feedback, and experiences of National Holidays. Your customer review can help would-be customers to gain more insight into how national Holidays operates and their level of customer support. Read other customers' reviews to learn about tips on your next holiday.
DJ Antoine feat. Akon - Holiday (Official Video HD)