Reviews EasyJet Holidays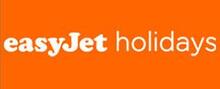 Although there are many options for travelers seeking flight, holiday, and car rental services, finding a reliable partner can be a daunting task. Are you looking for a reliable holiday and flight booking platform? If yes, EasyJet Holidays is the online platform for you. EasyJet Holidays online platform offers customers a chance to book for the best and cheapest holiday, flights, and cars in the market. But why choose EasyJet Holidays? Learn more about EasyJet Holidays by reading honest customer reviews of the services on offer at their online platform on ReviewsBird.
About
EasyJetHolidays
Since its establishment in 1995, EasyJet Holidays has grown to become a leading online platform for travelers looking for the cheapest flights, holidays, and cars in the country and across Europe. EasyJet Holidays' main aim is to be the go-to online platform for travelers looking for the cheapest car rentals, hotels, holiday packages, flights, and business trips. EasyJet Holidays operates flight services from London to major European cities and worldwide destinations, including Munich, Barcelona, Lisbon, Faro, Olbia, Majorca, and Alicante. EasyJet Holidays have received numerous accolades over the years, including Business Airline of the Year and Best Short-Haul Airline Business Travel Awards 2019, Best Low-Cost Airline in Europe Skytrax World Airline Awards 2019, and Best Low-Cost Airline Italia Travel Awards 2019. EasyJet Holidays Flight info services include Flight Tracker, Manage Bookings, Sustainability Travel Guides, Where we fly and Conquer your fear of flying.
Little Mix - Holiday (Lyric Karaoke Video)
Services
Offered by EasyJet Holidays
Travelers looking for the cheapest holiday packages should visit the EasyJet Holidays online platform. Customers are able to book for flights, holidays, and cars online at the EasyJet Holidays online platform. EasyJet Holidays make it easy for customers who have booked for holidays on their online platform to check-in online, saving them precious time when they get to the airport. Travelers have the option of dropping off their cabin baggage at the EasyJet Holidays Plus Bag Drop, by upgrading to the Hands-Free package and EasyJet Holidays will make sure the baggage is delivered among the first. Tracking where you are is important when flying and EasyJet Holidays have a flight tracker just for this purpose. Canceling a flight with EasyJet Holidays can be done within 24 hours. Customers receive their refunds minus the cancelation fee as they are listed in EasyJet Holidays Fees and Charges. If you have questions on the EasyJet Holidays services, their customer support can be reached easily via their online platform through email.
Complaints
and FeedbackaboutEasyJet Holidays
Have you used EasyJet Holidays online platform to book a holiday? Is EasyJet Holidays legit? Is EasyJet Holidays a reliable holiday planner? What is the refund process for the EasyJet Holidays? Can you cancel your flight anytime when you book with EasyJet Holidays? Can you purchase a holiday package on the EasyJet Holidays online platform? Does EasyJet Holidays offer the cheapest all-inclusive holiday destination packages? What are the measures EasyJet Holidays have put in place to prevent the spread of coronavirus among passengers? does EasyJet Holidays offer special assistance to travelers who need assistance? Share your experience booking flights using the EasyJet Holidays online platform with other holiday and business travelers. Write your honest customer review of EasyJet Holidays services on ReviewsBird. Sharing your experiences booking flights, holidays and car rentals with EasyJet Holidays helps other travelers make informed decisions.