Reviews Smarty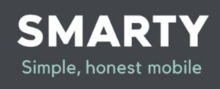 Are you looking to change mobile networks? Do you stick with one of the top three brands or do you change to the newer ones on the market? Mobile networks are improving in their data speeds, network coverage and decreasing the costs of their package. Some people don't like to be tied down to a network for 12, or 24 or 36 months, and would prefer the flexibility of monthly-rolling plans and month-to-month packages. Searching online will return hundreds of results for you to choose from and it will undoubtedly be a daunting process. Which one do you go for? One name on your list you might have checked out is Smarty. Are they reputable? Is their coverage in your area? Do they offer you unlimited data plans? Are calls on their network really unlimited and free? For those answers, you'll need to read real-world customer reviews. Those customer reviews will tell you exactly what you can expect from this network.

About Smarty
Smarty is a telecoms company operating as a mobile virtual network operator using Three's infrastructure in the United Kingdom. This company's offices are based in Maidenhead, Berkshire, England and their core services are 3G and 4G mobile-based plans. Smarty was started in 2017 and Elin McLean is currently the General Manager.

Products and Services of Smarty
All Smarty plans are on a monthly rolling basis, which means customers can cancel at any time. There is no credit check needed. This mobile network operator offers unlimited calls and texts with unrestricted tethering in the United Kingdom. Its data plans have no speed caps on their 3G and 4G products, while customers need to purchase data they wish to use. Unused data will be returned to customers at the end of every month. From the standard data discount plan which costs £5 and includes unlimited calls and texts a customer has only 500mb of data and for any additional data a customer purchases they will be refunded £1 per unused GB of data. Smarty offers 6 different data options: the Data Discount Plans are £6 for 1GB of data; £7 for 2GB of data; and, £8 for 3GB of data; £10 for 30GB of data; £15 for 100GB of data; £20 for unlimited data. The online fair use policy enacted by Smarty is restricting customers travelling in Europe to 20GB of data each month. Customers can add more data to their plans in increments of £5 to £15 for additional data. A cash add-on is required for roaming in Europe and abroad. Payment methods for plans and data are by credit or debit cards, cash via Paypoint retailer, and PayPal.

Compliments, Complaints and Tips about Smarty
Do you have a contract or a package with Smarty? We would love to read about your experience and feedback (positive and negative) about this company and its telecoms products. Did you purchase your SIM package and plan from their website? Was their online shop's checkout process straightforward? Did you need to reach out to their customer support services at all and if so, were they helpful and friendly? Are their plans really as cheap as advertised? Were the download speeds sufficient or would you consider them to be too slow? Would you recommend Smarty to friends and family? Your customer review would help would-be customers to know more about Smarty so that they could make better-informed decisions about whether to purchase a Smarty plan. Reading other customers' reviews offers tips and insights into Smarty's coverage, products and level of customer support.
Future of Telecomm with 5G and IoT - Vodafone (CXOTalk interview #310)