Reviews lol.travel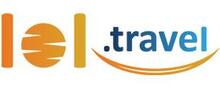 Are you looking for cheapflights? Do you need a rental car to use while on holiday or travelling for business? Are you searching for a hotel in a city you've never visited before? Are you looking for a holiday abroad, but you're not too sure which airlines operate from the United Kingdom to your destination, which car rental agencies you can hire, and which hotels offer the best experience? There are many online travel agencies available, and one is lol.travels. Reading reviews of real-world customers who've booked rental cars, flights and hotels through lol.travels and such companies offers answers to questions about their customer service, their reliability and reputability, their booking process and their quality.

About lol.travel
lol.travel is an online travel agency offering customers access to 300,000 hotels, flights from 600 airlines, and 500 car rental companies with 30,000 pick-up points around the world. This company is part of the Easy Market S.p.A. group based in Rimini, Emilia-Romagna, Italy. Their website's booking system offers customers the possibility to book holiday accommodation by selecting their destination, arrival and departure dates and the number of guests. To book flights, customers can select their nearest airport and the city they wish to travel to, as well as the travel dates and number of passengers. Customers seeking to book a rental car can select from where they would like to pick up their rental car and their duration of the rental. lol.travel allows customers to search for flights, hotels and car rentals according to their budget, their desired destination and requirements. The convenience of this one-stop online travel agency means that customers will be able to manage only one company for their hotels, flights and car rental instead of struggling to work with three different services and companies. Their comparison tool allows you to match your flights, hotel and car rental to your budget to help you save money on your next holiday or business travel.

Products and Services of lol.travel
The online bookings system used by lol.travels is safe and secure as it uses Thawte security software. Payment methods accepted by lol.travels are credit and debit cards, direct funds transfers, PostPay and MyBank transfers. They are accredited with IATA (International Air Transport Association). This company as a customer service department to help with bookings, queries and amendments.

Compliments, Complaints and Tips about lol.travels
Have you used lol.travels to book a hotel, car rental or your flights? Did you manage to book it easily through their website? Did you find your preferred payment method was accepted by lol.travels? Was your booking confirmation accepted by your car rental, hotel or airline? Would you recommend lol.travels to your friends and family to book their car, hotel and flights? If you have answered one of those questions, please write a review about lol.travels to give us your feedback, experience, and ratings of this company and its services. Read other customers' reviews about lol.travels to learn what to expect from this company in terms of bookings, support and customer service.
Madonna - Holiday [Official Music Video]