Reviews Waggel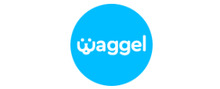 If you own a pet, you understand the feeling of unconditional love that you can have for them and, when you have that kind of love, you do not want to stress and worry about their wellbeing and you simply want the best that you can get for them. But pet insurance policies are notoriously confusing and annoying, paper-based and with bad customer service. That is why, atWaggle, they have prioritized the customer's experience to allow them to enjoy and go through the process with clarity and transparency from the company. It feels like a fresh approach, but to find out if the insurance company has managed to meet customers expectations, read our customer reviews and get insight into the process and their level of satisfaction with this young company.
About Waggel
Waggel, by Red Sands Insurance Company Ltd. and based in London, was launched in December 2018 to help owners provide their cats and dogs proper lifetime insurance without the confusing and long paperwork. They claim to be the most comprehensive pet insurance in the UK and offer a very simple, straightforward way to understand their coverage. And even though pet insurance has been around for a long time, Waggel has set itself apart from other pet insurance companies by first, making it easier for customers to decide to hire insurance by having very simple, easy to understand policies, making it easier to take action by making all the process available through their virtual platform and signing up with just a few clicks, and providing incentives like discounts on items for their pets.
DAY BREAK | All about insurance and insurance policies
Products and Services of Waggel
With Waggle, you can get your quote in less than 30 seconds and offers y you always have the chance to adjust your rate in the future to suit your budget. Customers can choose anywhere from £2,000 to a £10,000 of annual vet fee coverage. Waggle covers reoccurring conditions, dental, payment for loss, theft or death, constant availability of consultations with vets through FirstVet, and offers discounts and other advantages for your dog. When the time comes, you just upload a claim (for example, if you have a vet bill to claim for), let them know which vet treated your pet, and Waggle will take care of the rest and reimburse the amount. In their platform, you can log in to your personal account where you will find your dashboard to track your claims and get all the information you need about your insurance policy. Also, every Waggel member has a personal claims handler which makes sure that all your needs are covered and an online behaviour consultation service.
Compliments, Complaints and Tips
Have you already tried Waggel's pet insurance? Has it been helpful in those critical times with your pets? Are you happy that you have subscribed to it, has it maybe helped you in a situation that you were not expecting it to be useful? Do you have any complaints about the company or aspects of it that you think could be improved? Give us your feedback and let us know if you and your pet are happy with it, first-hand information can be very valuable to other users looking to hire insurance for their own pets.