Reviews Heatable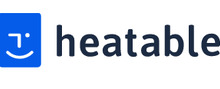 Times are changing a lot for customers who were used to certain services, such as buying furniture, getting a cellphone plan or getting a boiler, being a really painful, annoying and excruciatingly slow process with lots of hidden fees, pushy salesmen and obstacles along the way. Nowadays, the competition in the market is strong and there are plenty of companies that are offering, not just really good prices without any tricky extras, but really effective, attentive serviceas well. Heatable seems to offer just this kind of refreshing service, but to find out if this is true, read our customer reviews and get honest accounts of their experience with them.
About Heatable
Heatable is an energy company that aims to change what the heating industry offers clients and change the way people buy their boilers. It was founded in 2017 by two brothers, Sam and Ben, who had the technical insight on how the installation process for boilers is and knew how to modernise the energy industry. They offer clients low-price heating oil in a simple and practical way, without any of the usual hassles of this industry. Heatable avoids overheads by purchasing large quantities of products and reflecting the savings in the prices offered. They have partnered with Viessmann and Ideal boilers to provide quality products to their clients. Also, Heatable's installations are Gas Safeand they employ experienced engineers for their installations.
Denmark's $34 Billion Green Energy Island
Products and Services of Heatable
New boilers costs vary depending on your current heating system, your property, if it needs additional safety attachments and other variables. Heatable makes it really easy to get an immediate fixed quote by just answering some questions through their website and sending some very simple photos of your current heating system, which you can upload through your computer or smartphone. You will then be offered a range of boilers that Heatable will recommend that can suit your home, pick a budget or premium option, and they will include the rest that is needed, without any tricky hidden extras. All installations come with a protective filter for your boiler, a chemical flush to clear out any potential clogged material, and all the necessary safety attachments. After the client picks a boiler, the only thing left to do is to choose an installation date and make the payment. You can choose to fully pay for it immediately or spread the cost with the monthly payment plans they offer. Lastly, with Heatable's boilers, you can get up to 10 years of warranty.
Compliments, Complaints and Tips for Heatable
If you have already gone through the process of hiring a boiler through Heatable and getting it installed, we would love to hear what you thought of the experience, their prices and service. Did you think the price of the service was fair? Was the installation done properly and are you happy with your new boiler? Would you recommend this energy company to other customers? Other readers who are thinking of hiring their service would appreciate your feedback and insight, so share with us all the details!