Reviews BoilerJuice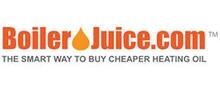 Is your boiler not heating your home and water as it used to? Have you checked that the piping and equipment is all in order? Perhaps it is the heating oil in your boiler that needs to be replaced. What is heating oil? It is liquid petroleum used as a fuel for boilers. Now that you've found out you need heating oil and what it is, now you need to figure out what heating oil to get for your boiler. There are two main types: gas oil (also known as red diesel) and kerosene. Most homes in the United Kingdom's boilers are filled with kerosene, but red diesel is preferred by some. Your boiler is designed for only one type of heating oil, so picking the right one is important. A simple look over your boiler will indicate to you which type of heating oil to get, as it has distinctive markings for the type of oil it requires. Where do you buy heating oil? BoilerJuice is a company that supplies heating oil, but are they reputable and reliable? Do they deliver to your home? Do they fill your boiler for you? By reading customer reviews of real-world people who've bought from BoilerJuice, you will know what to expect from this company, its products, and its customer service support.

About BoilerJuice
BoilerJuice was founded in 2004 as an online heating oil supplier to homes and business across the United Kingdom. It is a subsidiary of Welsummer Limited, which is an independent heating oil company. Their head office is in St Ives, Cambridgeshire, England. The BoilerJuice website offers a platform for customers to buy heating oil from the nearest and cheapest supplier. Other heating oil suppliers can also register on this platform so that they can also offer quotes to customers.

Products and Services of BoilerJuice
BoilerJuice offers two types of heating oils to customers: Kerosene28 and Gas Oil (Red Diesel). Customers can make payment with their credit and debit cards and there is a payment plan available whereby customers can pre-pay for their heating oil in monthly instalments. The heating oil is delivered to addresses across mainland United Kingdom and deliveries are estimated at 5-10 working days. The heating oil supplier will communicate in days leading up to the delivery for more accurate date and time.

Compliments, Complaints and Tips about BoilerJuice
Have you used BoilerJuice to buy heating oil for your boiler? What was your experience of using this platform? Did you find their service fast and simple? When they delivered your heating oil, were they able to deliver your full order? Would you recommend BoilerJuice to friends and family also needing heating oil? We would love to read your honest feedback and experience of BoilerJuice. Please consider writing a customer review. Your insights will help other would-be shoppers learn more about this company and its systems.

Reading other customers' reviews will help you to make better-informed decisions on BoilerJuice to know whether to use BoilerJuice for your heating oil needs.
V:RGO - ENERGY (OFFICIAL VIDEO)