Reviews Smallable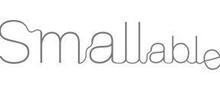 Do you want to spoil your wife or partner with a gift, but not really sure what to buy? Or, as a mother, are you looking for a range of designer fashion clothing for your baby? Would you like to decorate your nursery? Do you need baby care items for your soon-to-be-born baby? We all want to spoil our children and designer fashion and clothing for them and yourself is fun to shop for and to wear. But which online fashion store do you turn to? Which shop do you visit for new-born fashion? One of the names you will come across in your online search is that of Smallable. Do you know if they are a reputable company? Which brands do they stock and are their clothing sizes standard? The answer to these and other questions can only be answered by customers. Reading customer reviews will help shoppers to learn exactly what to expect from Smallable and that is why customer reviews are so important in our world of e-commerce.

About Smallable
Smallable is an online fashion and clothing store specialising in products for mothers, children, and women with a focus on high-quality contemporary styles and designs for clothing and home décor. This e-commerce company was started in 2010 by Cecile Roederer in Paris, France, and has grown from a small website to one that now stocks 750 leading brands from around the world and delivers orders to 200 countries. Items on offer include designer children's clothing and fashion, teen fashion, new-born clothing and fashion, toys, children's decorative items, baby care, nursery décor, design and home interior items, and women's fashion. Popular brands on their website's online shop include Pomandere, Heimstone, Laurence Bras, Masscob, Maison Olga, Vanessa Bruno, Repetto, and Anthology Paris.

Products and Services of Smallable
This company accepts credit and debit card payment methods. They offer customers a 7-days returns policy and refunds are distributed as credit notes which in turn can be refunded within 30 days. Smallable ships to the United Kingdom: standard delivery services usually take 2-5 working days. They offer a range of shipping options with different courier companies and each courier company offers different delivery methods and speeds and costs. Shipping costs start at 6.50€.

Compliments, Complaints and Tips about Smallable
Have you purchased any items from Smallable? We would love to read about your experience and feedback (positive and negative) about Smallable. Please consider writing a customer review so that other would-be customers will know more about this company, its range of products, and its level of customer service. Did you order arrive on time? Were the items of the quality as advertised? Was their website easy to navigate? Did you find their checkout process to be straightforward? Did you need to return any items and if so, were their customer support agents helpful, friendly, and professional? Would you recommend Smallable to friends and family?

Reading other customers' reviews will help you to decide whether to shop at Smallable, gain more insight into its products and other tips such as figuring out the different sizing guides.
cheap online stores for your aesthetic 2020 (indie,alt,soft girl & more...)