Reviews Mattress Online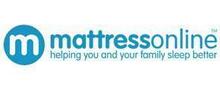 You're needing a good night's sleep and your bed isn't comfortable any more. Your back is stiff, your neck is sore and you're dreading the thought of having to lie on your bed after a long day at work. Searching the Internet turns up thousands of online mattress retailers and one of them is called Mattress Online. You might be wondering if they're a reputable company, how their customer service rates, the quality of their products or if they offer a delivery service and how their online store process works. Reviews of real-world customers with their experiences, ratings and opinions of Mattress Online will help you to better form an impression of this company to help you to decide to trust them to supply you with the right product at the best price.

About Mattress Online
Mattress Online was founded in 2003 and have their offices in Rotherham, South Yorkshire, England. For customers looking to try a mattress before buying, Mattress Online has a shop located in Rotherham called The Bed Shop. It offers mattresses, beds, headboards, mattress protectors, mattress toppers, duvets and pillows from leading manufacturers and brands.

Products and Services of Mattress Online
Mattress Online offers customers mattresses, beds, bedding in their online shop from 37 brands and manufacturers such as Silentnight, Sealy, Slumberland and Sleepeezee. Shoppers can select mattresses by types such as memory foam, pocket sprung, orthopaedic, kids' mattresses, latex, and miracoil. Sizes of mattress available range from single 3ft size to super king. If searching for beds, Mattress Online's website has beds in the following category types: divan beds, wooden beds, metal-framed beds, kids' beds, fabric beds, leather beds, TV beds, sofa beds, adjustable beds. A shopper can also add accessories to the shopping cart such as pillows, duvets, headboards and mattress protectors too. Mattress Online offers free next-day delivery or you can schedule a delivery date to suit your needs. Their delivery service also includes a two-person delivery that can carry your mattress or bed to your room at a fee. They do delivery on weekends and delivery charges are applicable. Payment through their website's checkout system is Klarna, credit and debit cards and PayPal services. They also have a customer service department to assist with making changes to orders, shipping and buying advice. Mattress Online has a 28-day return policy. Refunds are issued between 3-5 working days.

Compliments, Complaints and Tips about Mattress Online
Have you purchased a mattress from Mattress Online? Was the info on their website helpful or did you need to research their products elsewhere before buying from them? How did you find their online shop's checkout process? Did you search long on their website to find the right mattress for your needs? How did you find your interactions with their staff and their customer service? Would you recommend Mattress Online? We invite you to please write your reviews, ratings, opinions, experiences and notes about Mattress Online so that other customers can read about what to expect when buying from Mattress Online to make the best decision possible on the right product.
Shopify Store erstellen online Shop Anleitung KOMPLETTER KURS