Reviews Intergard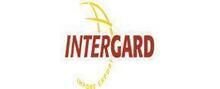 Are you looking to spruce up your garden? Do you want to liven up your flower banks? Do you need a garden shed to store your tools? Perhaps you are looking for fencing products to make your life a bit easier for your next home gardenDIY task? Your local gardening shops and DIY stores might be promoting certain products that are not necessarily the best. You might be a DIY shop and looking for products that offer greater appeal to your customers in terms of quality, value, and range. Searching for gardening products store online will return many brands and manufacturers. A name you might have seen is Intergard. Are they reputable? Are their products of high-quality? Do they offer good value for money? The only way to know those answers is to read reviews, feedback and experiences of people who've bought products from Intergard.

About Intergard
Intergard is an online gardening products shop based in the Wierden, Overijssel, The Netherlands. This company manufactures and distributes its products across the world to DIY shops for customers to purchase from there. Product categories include fences,garden sheds, wooden products, garden furniture, playsets, pavement, ponds, accessories, artificial grass, barbecues, wood connectors, and fasteners. Across those categories, they offer 10,000 products from which customers can select. To purchase any products, the customer can browse the website through product categories. These are then further categorized by their material types, sizes, and designs. Shoppers can select items and click to place them into the cart, and will also be shown related items that might be of interest to those shoppers. Intergard's range of products extends to barbecue masonry, garden torches, plastic storage cabinets, garden hearths, rain barrels, artificial plants, storage boxes, lighting solutions, roller blinds, doormats, compost bins, garden carpets and stable windows.

Products and Services of Intergard
Intergard accepts payments made with iDEAL, credit and debit cards, PayPal, Sofort Uberweisung, Ice pay, Giro Pay and After Pay services. Shipping is delivered in 3-10 working days depending on location. All prices on Intergard's online shop are offered in Euros. They do have a customer support department to assist with orders, shipping, and any other queries.

Compliments, Complaints and Tips about Intergard
Have you bought a garden shed, playset or other garden product from Intergard for your garden or your DIY store? What do you think of the quality of Intergard's products? Were you satisfied with your purchase? Was it easy to unpack and assemble? Were you able to order in bulk for resale in your DIY store? Would you recommend Intergard products and services? We would love to read about your experience and review of this company. Please consider writing a customer review with your notes and feedback. Your review will be able to help other customers to know what to expect from Intergard in terms of customer service, delivery, and their range of products.

Read other customers' reviews to understand more about this company, which products are worthwhile, which items are easy to assemble, and more.
wix online shop | wix.com Akademie | Kosten