Reviews Barker and Stonehouse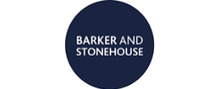 When it comes to buying furniture, you always want to look at as many different possibilities as you can before deciding. You also want to be able to see examples and ideas that can stimulate your creativity, so that when it comes to making a decision, you truly feel like it has been a personal choice that represents what you want your spaces to express and represent. Barker and Stonehouse are one of the largest furniture retailers in the UK, with some of the most progressive and contemporary showrooms in the industry and it has proven to be one of their key strengths. But there is more to making clients happy than just being a big and recognized company, so read our customer reviews to see if Barker and Stonehouse have lived up to clients' expectations and needs.
About Barker and Stonehouse
Barker and Stonehouse is a British furniture retailer. They are a family-run firm that was established in 1946 in the North East of England. Barker and Stonehouse's flagship store is located on Haydock Park Road in Teesside Retail Park. It first opened its doors in 2015, with an environmental-friendly design, made from recycled materials and featuring a living wall with a self-sufficient water irrigation system. They also have stores in Newcastle, Gateshead, Darlington, Knaresborough, Hull, Leeds, Nottingham, Battersea, Teesside, Hove and Guildford. Barker and Stonehouse stock a broad range of furniture including sofas, beds, dining tables and chairs, office furniture and children's furniture. And they stock designer brands such as Natuzzi, Ercol, Stressless, Timothy Oulton, Tempur and more. Barker and Stonehouse is also the founding member of Trees4Trees, a non-profit organisation located in Indonesia to support local communities through reforestation and education initiatives.
buying my DREAM wardrobe at 2AM (online shop with me!)
Products and Services of Barker and Stonehouse
Barker and Stonehouse make sure to provide their clients with a broad range of products for all types of needs and personalities, in many colours, textures and patterns, and illustrate them —both in their showrooms and online— in a way that is appealing and easy to visualize. Clients have the option of spreading the cost of their purchase through their 0% Finance option, with a 20% deposit for the first payment and the rest can be paid throughout the year. They also offer a 2-year-guarantee in all their products which can be extended to 5 years and a delivery team who will place your furniture where you need it. Purchases also have a 14 days free return and Barker and Stonehouse will take care of the pick-up. They also offer to recycle your unwanted furniture for a small fee and if the item happens to be in good condition they will donate it to the British Heart Foundation.
Compliments, Complaints and Tips for Barker and Stonehouse
Have you shopped for furniture at Barker and Stonehouse? Do you own a piece of furniture from them and, if so, was it everything you hoped for? Have you visited their showroom and did you find it a useful and entertaining way to shop for your items? Have you used their delivery service and were you happy with the service?Your feedback can be really useful to other readers who are thinking of buying products from Barker and Stonehouse, so don't hold back on all the details of your experience!