Reviews Wholesale Domestic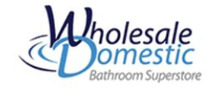 If you are browsing through the web and the online market looking to compliment your existing bathroom space or maybe looking for a full renovation, you need to find a place that can offer you a variety of options, help you envision what your space could look like and offer you many other services to make your purchases as comfortable and enjoyable as possible, because creating your dream bathroom or any space, in fact, should not be an annoying task, but something to look at as a creative endeavour. Wholesale Domestic seems to be a great place which offers a broad variety of options and great bathroom suite packages. Read our customer reviews to find out if customers were happy with their purchases and Wholesale Domestic's services, because, with such a big task as redesigning your bathroom, you want the whole experience to be worthwhile.
About Wholesale Domestic
Wholesale Domestic has a long trajectory of over 57 years providing their customers withthousands of bathroom products, from the most stylish to the most exclusive bathroom products. They claim to have the best value prices in the market, and they are constantly offering users new choices and types of design, seeking always the most exclusive and current products for bathrooms around the world. They have showrooms which present customers with inspiring selections of bathroom displays and thousands of products to choose from and they also have bathroom experts who are available to help and advise customers in every step of the way. You can shop at their renovated 20,000 sqft showroom in Hillington Park, Glasgow, at their 7,000 sqft showroom in Wellington Trade Park, Aberdeen, or online as well where, if you need support, you can always contact the experts at their Customer Service any day of the week.
Products and Services of Wholesale Domestic
In their showrooms at Glasgow and Aberdeen, you will be able to find over 50 full-size bathroom displays that offer its customers the opportunity to see the products and accessories in a real room setting. And you will be able to find the same products online, with everything from bathroom packages, bathroom furniture, shower enclosures, baths, basins, toilets, heated towel rails and bathroom tiles. They provide free delivery for orders of £500 or above and delivery times are around 2 to 5 working days. They can collect and dispatch orders on the same day as purchased thanks to their 133,000 sqft distribution centre in Hillington. They have also partnered with V12 Retail Finance to offer clients flexible payment options with interest-free financing of 10 or 20 months.
Compliments, Complaints and Tips for Wholesale Domestic
Did you already choose Wholesale Domestic's services to renovate your bathroom? Did you find it was a positive experience? Are you thinking of buying more of their products and packages in the future? It would be great if you could share with other readers your honest insight and feedback, as there is nothing more useful and illustrative as first-hand accounts from real customers.