Reviews Sian Marie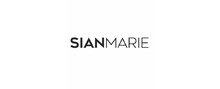 To style yourself is to find each day a very personal way to make a statement and assert yourself. For the fashion industry, it has become essential that women can feel confident, powerful and comfortable in their clothes and with their looks, and that they are able to feel freedom through style. After the world's fever with fast fashion, a new kind of fashion business has emerged that provides very uncomplicated shapes and colours with premium fabrics, reflecting a style that is sophisticated, practical and innovative, without compromising the quality. Sian Marie's brand seems to be well-positioned in that niche market. If you are interested in their products, read our customer reviews and find out what other's experience has been with them.
About Sian Marie
Sian Marie is a fashion brand founded by fashion designer and creative director Sian Gabbidon. Sian Marie aims at empowering women through elegant loungewear and swimwear, with quality designs, and simple silhouettes and colours that focus on accentuating the female form. Each item is handmade and comes in a variety of colours and sizes. The story of its founder, fashion designer and creative director Sian Gabbidon is quite interesting. In 2018 Sian applied to become a candidate on the BBC television show The Apprenticeand she won the award in December of that same year, receiving not only a £250,000 award but a lot of attention for it, both of which she used to push forward her brand.
Products and Services of Sian Marie
Sian Marie's loungewear includes jackets, coats, sweatshirts and hoodies, tracksuits, dresses, tops, bottoms, and currently also face masks. Its swimwear includes one pieces and two pieces, tops and bottoms, coverups and modest swimwear. Customers get free UK delivery for orders over £100, or £3.99 for orders under £100, and the delivery takes from 3 to 5 working days. There is also international shipping available and there are plenty of payment options, including Apple Pay and Clearpay if you want to pay for it in interest-free instalments. And if you consider yourself a fashion-forward girl with a talent for social media and you would like to make some extra money, you can join the Sian Marie ambassador program by creating looks with their clothes, sharing it and getting paid for it, receiving discounts and more. Sian Marie also offers 20% discount to students and apprentices, so they offer plenty of ways to help out when you're short on money.
Compliments, Complaints and Tips for Sian Marie
If you have already shopped and are familiar with Sian Marie, share your feedback and thoughts on their products and services. Did the clothes you purchase fit you well? Are you happy with your purchases? Was the delivery on time or did you go through any inconvenience when receiving the item? Do you have some suggestions for them or aspects you think this brand could improve? Would you recommend Sian Marie to other customers? Your experience could help others gain some insight into this company, so don't hesitate to share it with us.