Reviews Sheds.co.uk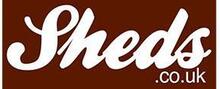 Garden Sheds offer owners extra storage space. They are used mostly to store gardening tools and equipment, swimming pool accessories and tools, and even garage tools, to help keep your garden neat and tidy. Garden sheds are also useful to store items that aren't suitable for indoors such as petrol-powered equipment, pesticides, herbicides, and dangerous power tools. As many homes in the United Kingdom don't have garages, sheds also serve to store general tools, bicycles, and even motorcycles. Searching for a garden shed is far from a straightforward task: a shopper needs to determine the size they need and can fit in their garden, the material of the shed for its weatherproofing qualities, the shed's construction type such as windows, and whether it is intended as a summer garden house or a playset for your children. One company that you might have come across is Sheds.co.uk. You might be wondering if they are a trustworthy company, if their products are durable and of high-quality, and whether their customer service is noteworthy. Only customers who have bought from Sheds.co.uk will know more about this company, its procedures, product quality and customer service. Reading customer reviews will help you to decide whether this business is reputable and makes choice products for your garden.

About Sheds.co.uk
Sheds.co.uk is owned and operated by Sixty Stores LTD with their offices based in Stratford upon Avon, Warwickshire, England and operate a showroom from those premises too.

Products and Services of Sheds.co.uk
Sheds.co.uk offers customers a 7-day money-back guarantee and if any product is faulty or doesn't meet customer satisfaction, Sheds.co.uk will provide a replacement. All play equipment offered by this company meets the BS EN71 regulation (this is the European Toy Standards Certificate of Conformity) and all products are FSC rated (the Forest Stewardship Council ensures that companies carrying their mark source their wood from timber mills that respect the environment and re-plant areas have been reforested to ensure long term timber supplies). Shipping is free to all mainland United Kingdom addresses. Delivery times vary on orders and product types and Sheds.co.uk's website displays delivery details on each product page and in the checkout process. The usual delivery timeframe is 7-14 working days. This company offers buying advice and after-sales care support to customers on business days during business hours.

Compliments, Complaints and Tips about Sheds.co.uk
Have you bought products from Sheds.co.uk? Was your order delivered on time? Were you satisfied with the product's quality? Was it easy to install and assemble? What was your experience of navigating their website? Was their website's checkout process straightforward? Did you reach out to their customer support agents to assist with buying advice or to return a product? Were they helpful and professional? We would love to read your feedback and experiences with Sheds.co.uk. We would also like to know if you'd recommend this company to friends and family looking for garden sheds too? We invite you to please write a customer review of their business, customer service and any feedback (negative or positive) that you'd like to share. Your feedback will help other customers to know what to expect from this company.

By reading other customers' reviews, you will also learn more about different aspects of Sheds.co.uk to enable you to make an informed decision on whether to buy products from Sheds.co.uk.
24 hour Online Shopping Challenge