Reviews Reiss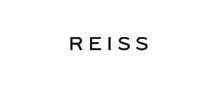 If you have an eye for fashion and design and are always looking to wear quality pieces, it can be difficult to find a brand that offers both a balance of quality, timeless design and a fair price. The brand REISS is a British fashion brand that aims at creating menswear, womenswear and accessories that are well-designed, have quality, detail and value, can suit both young and old, and be delivered with effectiveness and care. Read our customer reviews and get first-hand information from real people who already have experience buying products and services from REISS.
About REISS
They first opened a store in 1971 at Bishopsgate, London, when they realized there was a need in the market for affordable, quality tailoring. It started out as a menswear company and in the year 2000 expanded into womenswear. They currently have over 160 stores in 15 different countries including stores in Heathrow Terminal 5, Westfield London and in New York's Greenwich Village, and are looking to expand in North America, Australia and other locations around the world. The REISS' headquarters and store in London has won several awards including the RIBA Award, the BCO Award and the Civic Trust Award. They were also named Fashion Retailer of the Year in 2003 at the British Style Awards. REISS also has a celebrity following, including members of the Royal family and Hollywood stars. Aware of the current world situation and the needs of our time, REISS also gives importance to its corporate responsibility, having its ethical standards and statements in regards to diversity and inclusion, gender gap pay, a supplier code of conduct and modern slavery and transparency in supply chains.
Online Shopping UK | Groceries | Food delivery | Cheap Supermarkets in UK
Products and services of REISS
In their website, you will find REISS offers collections, clothing and accessories for men and women. Their clothing section includes leisurewear, knitwear, coats, jackets, tops and shirts, trousers, jeans, shorts, suits and tailoring. Their accessories section include items such as shoes, bags and wallets, hats, gloves and scarves, hand care and fragrance, and currently also face masks. And their collections are divided into winterwear, cashmere, workwear, evening and more. One interesting service within their collections category is the Personal Tailoring section, which allows for customers to have full control over their design and be able to build your signature desired suit in only 17 steps over the course of a 90-minute appointment in-store. Their tailors will help you through every step of the process, like making the necessary measurements and helping you pick shapes and fabrics, and every other kind of detail. The prices for this special service start from £645 and it is a service available in 14 stores across the UK. Clients can choose from over 300 fabrics sourced from Italy and the UK, they have 60 lining colour options, 59 different buttons to choose from, 15 piping options, 19 different thread options and many other options. The finished suit will be available to collect in-store or be delivered in 6 weeks. Clients can also complete their suit with made-to-measure shirts, starting from £150, that are also available at certain locations and a delivery time of 5 weeks.
Compliments, Complaints and Tips for REISS
Are you familiar with the REISS brand? Have you worn their suits and clothes? If you have, leave a review and let us know how was your experience with them. Your feedback is very valuable for other customers looking to use their services as well.