Reviews Philip Morris & Son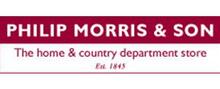 When looking for stores where you can have fun stocking up on everything that you need-- from kitchen, countryside or garden accessories, to footwear and clothes--, you always want to find a good balance between quality items, good prices, and good customer service. The more hectic this world becomes, the more brands and companies want to get our attention, the more it becomes relevant for us to choose stores that have a trajectory in good service and quality products. Philip Morris & Son claims to be just that and seems to have shown it with a long, consistent trajectory in the market. But to find out if they have stayed true to their values, we recommend you read our customer reviews and find out what other people's experiences has been with this long-standing company.
About Philip Morris & Son
Philip Morris & Son is a family-run home and country physical department store and online store which was established in 1845 and located in Widemarsh Street, Hereford, for the past 160 years. They opened a second store in 2007 right next to the first store, where the clothing and gunroom departments are located. They have a wide range of products including items for the bathroom, kitchen, gardening, barbecues, shooting accessories, men's and women's clothing, bags and luggage and hardware. They claim to stay true to their tradition and roots, but at the same time have kept themselves current. For example, they have recently updated and brought many changes to their online platform and now have a virtual reality tour to offer clients the most dynamic browsing experience.
Products and Services of Philip Morris & Son
Philip Morris & Son's business has 8 departments, each one has a staff member who is an expert on the products they sell. They sell over 70 quality brands such as Barbour, Musto, Schoffel, Dubarry, Le Chameau, Aigle, Alan Paine, Ariat, Arthur Price, Barbour, Belledorm, Beretta, Birkenstock, Fairfax and Favor, Hicks and Hides, Hunter, Leifheit, Royal Worcester, Wilkinson Sword and more. Philip Morris & Son ships through Royal Mail, DPD and DX Freight, and shipping is done from Monday to Friday. They ship to most areas in England, Wales and Scotland. The estimated time of arrival will be shown in the product's page and they have a 60-days refund policy with a full reimbursement for their clients.
Compliments, Complaints and Tips for Philip Morris & Son
Are you familiar with Philip Morris & Son? Have you already bought products from this company in-store or online? If you have ordered online, did you find their website easy to browse through and their delivery service effective? Did the items get to you on time? Was the customer service attentive and useful? We'd love for you to share all the details of your experience with other readers who may be looking for a trustworthy store to make their purchases, and the best way to be sure that Philip Morris & Son will fulfil their expectations is through other people's personal accounts and honest feedback.