Reviews Oliver Bonas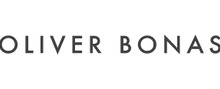 If you enjoy decorating your home, have an eye for good design, enjoy going to stores which can offer you a variety of objects, accessories, clothes, a place where you can find almost anything you need to dress up and decorate your spaces, Oliver Bonas is one of those stores which stock a big range of products in many styles and for every need. It can be such a fun experience to go into a store and come out with a scarf, some candle holders, a mug and a cushion —exactly what you needed to spoil yourself a bit. To find out if Oliver Bonas' products are of quality and their services reliable, read our customer reviews and get first-hand information and accounts from real customers.
About Oliver Bonas
Oliver Bonas is a lifestyle store which draws inspiration from the founder's, Olly, unique upbringing which was influenced by extensive travelling around the world and getting to know many cultures. He began by bringing gifts to friends from his travels and opened as a small business in 1993. The company started by curating other people's designs and, with time, it has grown into making their own designs, with their own fashion and homeware collections and new designs coming out online every week, created at their London studio. They have almost 80 stores across the UK. At Oliver Bonas, they want to do business with integrity, ethical standards and making sure it doesn't affect negatively other people and environments. At their website, you can find information about all the efforts they are making to ensure Modern Slavery does not happen in any part of their supply chain, and are also a part of en Ethical Trading Initiative (ETI) and also a part of Sedex, a collaborative platform for sharing responsible sourcing data on supply chains.
How to Start An Online Store In 6 Simple Steps
Products and Services of Oliver Bonas
Oliver Bonas has a broad range of products in categories like Christmas, Homeware, Fashion, Gift, Accessories, Jewellery, Beauty and Furniture. You can find homeware items for the garden, bedroom, living room, kitchen, bathroom, dining room and more. And in their fashion section, you will be able to find dresses, tops, t-shirts, knitwear and coats, and all kinds of women's clothing and accessories. It also has a section on Inspiration where you can find plenty of articles to help you decide which items to choose and give you ideas for your home. When shopping online, you will receive an SMS and an email so you can track your delivery. You can choose Next Day Delivery, which is £5.95 or £2.00 for orders over £50.00, Standard Delivery for £3.95 and free for orders of over £50.00 and delivered in 2 to 4 working days, or the Nominated Saturday Delivery for £7.50. Oliver Bonas has also partnered with Klarna and offer interest-free credit on furniture allowing customers to spread their payment through 12 months. Also, students get a 10% discount off fashion, accessories, jewellery and home items.
Compliments, Complaints and Tips for Oliver Bonas
If you already have experience buying from Oliver Bonas, share with us your thoughts so other customers can decide if they wish to buy products from them as well. Are you happy with the items you bought from Oliver Bonas? Was the delivery service effective and reliable? Did you have a good experience or a not-so-good experience? Your feedback can be very valuable for other customers looking to shop at this platform.