Reviews OKA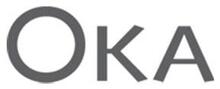 Decorating your home can be a fun and rewarding process. Slowly transforming a room into a certain style, adding furniture and accessories to a setting can make all the difference to a home. Once you've begun interior decorating your home, you'll notice shops around your and on the Internet offering you inspiration, furniture, and décor tips. One of those companies is OKA. What does this online furniture retailer stock in terms of furniture types and styles? Do they sell only high-end, luxury furniture? Are their products well made to justify their prices? What about OKA's customer service to you when asking a question, asking for advice, or lodging a refund claim? Those are questions only OKA customers can give feedback on. Their reviews, experiences, opinions, ratings, and tips will help others to form an insight into what they can expect when shopping at OKA online and in their stores.

About OKA
OKA is an online furniture retailer also offering décor accessories. It was founded in 1999 by Annabel Astor in Didcot, Oxfordshire, United Kingdom. OKA has 14 stores around the United Kingdom and their online shop delivers countrywide on mainland UK. The furniture it sells includes sofas and chairs, beds (divan beds, bed frames, headboards, and mattresses), tables (from side tables to desks to coffee tables and dining tables), and storage units (bookcases, sideboards to wardrobes and chests). To accessorise the furniture, OKA offers soft furnishings such as cushions, throws, rugs, runners, and bedroom accessories including quilts and linen. For decorating walls, they offer mirrors, wall art, while tableware available includes crockery, glassware, cutlery, bar accessories. Choose from a selection of decorative pieces such as vases, pots, photo frames, candles and diffusers. The website also shows pet beds and accessories, as well as desk accessories and Rattan Storage items too. Lighting plays an important part in interior decoration, and OKA offers lamps, lampshades, and accessories to transform a setting. To dress up a theme or round off a look, shoppers can even add artificial flowers and bouquets to their shopping items at OKA.

Products and Services of OKA
OKA's checkout process is straightforward and accepts credit and debit card payment methods. They offer a free delivery service. For certain items, they also accommodate deliveries of fragile products, express deliveries, and even international delivery services. If a customer isn't satisfied with a product, they can make use of OKA's 14-day returns policy.

Compliments, Complaints and Tips about OKA
Have you bought products from OKA before? What do you think of their products? Are their products of quality and substance? How did you find their online checkout system? Did your order arrive on time? How were the staff in your interactions with them? Was their customer service at a high level? Did they answer your questions and help you with a claim or return? Would you recommend OKA to friends and family? We would love to read your compliments, complaints, and tips about OKA. Let us know by writing a customer review, rating their company, and offering your experience and feedback. Your review can help others to decide whether OKA is the right place for them to search and buy furniture. Read other customers reviews about interior decoration, their favourite products, how they arranged their rooms with a new desk and the different uses of various materials in interior design.
My Favorite Online Shops & How I Order