Reviews Oak Furniture Superstore | OFS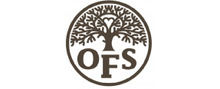 Are you in search of new furniture? You might be looking to revamp your home's interior design, or simply looking to replace your existing dining set? What are the options available to you and in your price range? Where do you begin your search? What do you need to look for in a new sofa? What are the best materials and fabrics? One of the places you can search for information, advice and items is Oak Furniture Superstore. Are they reliable and reputable? Only customers of this company will be able to tell you that. Reading customer reviews will give you those insights to give you better chance at making informed decisions on whether to shop at this company.

About Oak Furniture Superstore
Jonathan and Danielle Harris started Oak Furniture Superstore as an online furniture retailer specialising in wooden products for homes. Their office is in Borehamwood, Hertfordshire, England. They source and design high-quality wooden furniture from forests that function sustainably in a range of styles. Customers can shop for dining sets and furniture, sofas, living room items, bedroom products, chairs, accent chairs, and sofa beds on their website. Popular items on their website include dining tables, dining benches, dining chairs, and sofas. Customers can search for items by colour, by size, by range, by material and by price range. Their dining sets range from oak tables and chairs to glass dining sets, ceramic dining sets, and to stone dining sets.

Products and Services of Oak Furniture Superstore
Oak Furniture Superstore accepts payments made via credit and debit cards and PayPal services. Oak Furniture Superstore also offers interest-free financing on orders over £500. DivideBuy provides credit with instalment options ranging from 3-12 months. All items sold carry a 1-year manufacturer's warranty. In the case of returns, they provide a 14-days return policy and process refunds in 14 days. For customers wanting to view items, Oak Furniture Superstore has 2 showrooms in Enfield, Middlesex, England at their Crownhill Garden Furniture partners. This company offers free next-day shipping and select-day delivery on items in stock. For items to be ordered, Oak Furniture Superstore provides free delivery on orders over £350. Orders under £350 carry a delivery charge of £35. Standard delivery is usually 10-14 working days.

Compliments, Complaints and Tips about Oak Furniture Superstore
Have you bought any items from Oak Furniture Superstore? Was your item in stock or did you need to wait for it to be shipped? Was their product's quality as advertised? Did you find their website's only checkout process to be straightforward? Would you recommend Oak Furniture Superstore to friends and family searching for wooden furniture? We invite you to please write an honest customer review with your feedback and experience in dealing with this company. Your customer review will help other customers make up their minds as to whether to shop at Oak Furniture Superstore.

By reading other customers' reviews, you will gain insight into this company's product range, their customer service and support, the learn more about which products are best for each style.
HOW TO SHOP VINTAGE ONLINE – the mistakes pre-owned shopping