Reviews Mappin & Webb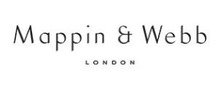 If you are looking for the finest jewellery, watches and rings for you or your loved ones, you have to find a recognized brand that has already produced exquisite fine jewellery, elegant silverware, watches and other fine accessories. To know which jewellery company can suit all your requirements and needs, read our customer reviews and find out their level of satisfaction with the services and products offered by Mappin & Webb and other jewellery specialists.
About Mappin & Webb
Mappin & Webb is a jewellery companylocated in the United Kingdom and founded in 1775 by Jonathan Mappin who opened a silver workshop in Sheffield, a major centre of the English silver trade. They have over 240 years of tradition, recognition in the world of silver and fine jewellery, and currently own many retail stores in the UK. Mappin & Webb are known for combining craftmanship and quality with contemporary designs. They create jewellery, silverware, watches, glassware and accessories, which have expanded internationally and have gained recognition around the world. They've held Royal Warrants to British monarchs since 1897, with Queen Victoria being the first British monarch to commission Mappin & Webb, and Mark Appleby, the company's master craftsman, is the current official Crown Jeweller of the United Kingdom. Mappin & Webb has created jewellery for royalty in the United Kingdom and internationally, including Queen of France Marie-Antoinette, the Empress of Russia and Princess Grace of Monaco. The company has also held Royal Warrants to the Russian Empire and the Japanese Royal Household.
Ordering furniture for MY HOUSE!!! Online shop w me!
Products and services of Mappin & Webb
Mappin & Webb currently offer many products in their platform, including Rolex watches, jewellery, engagement jewellery and wedding gifts. Some of their featured watches include Rolex, Patek Philippe, Omega, Cartier, Breitling and TAG Heuer, among others. Their jewellery is sorted into the following categories: rings, earrings, necklaces, bracelets and cufflinks. They also offer several interesting services. One of them is a 'Sell Your Watch' service where you can enter your watch details (the easiest way is to search by model number), receive an instant valuation and if you are happy with their proposal, you can send the watch to them or visit one of their stores for a possibleexchange, and afterwards choose a payment option to receive your part of the deal. They also have a pre-owned watch section and a sale section. Another interesting service they offer is to get live advice from a Luxury Watch Expert, so you can completely personalize your shopping experience at their site and receive the best assistance. You can book appointments for in-store, phone or video and get in touch quickly with a member of their team.
Compliments, Complaints and Tips for Mappin & Webb
Do you own a Mappin & Webb watch, ring or accessory? Were they able to provide all the services that you expected from this renowned company? Do you have any future recommendations for customers or for the company? If so, share with us your experience and feedback so other users can get first-hand information about this company from real customers.