Reviews Hartleys Direct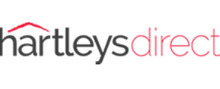 Home is your essential place where not only do you get to after a long day at work, but it is the first space you go to relax and spend time with loved ones. It should reflect who you are and how you enjoy living ―reflect your pleasures, priorities and preferences. That is whyit is important to maximize and design your spaces so that you can make the most out of them. And if you especially enjoy designs that are clean and simple, it is possible that Hartleys Direct's designs suit perfectly your interest and preferences. To make sure that Hartleys Direct will meet your expectations both in service and design, read our customer reviews and find out if they were satisfied with the services, the quality of the products and other details that could be of use to you before deciding to buy from them.
About Hartleys Direct
Hartleys Direct is a furniture and homewares company based in the UK and founded in 2013. With their products, they aim at being simple and functional, and they wish to help customers make the most of their living spaces with stylish and affordable furniture, for all locations and lifestyles. Hartley Direct uses simple designs as a way to offer customers the possibility of using their products as a foundation full of possibilities which they can, later on, customize if they wish to do so. That is why they use simplicity in designs such as their white or bamboo collections, their glass items and their industrial furniture.
ONLINE SHOP WITH ME 💸 For FALL CLOTHES (to go nowhere in lol)
Products and Services of Hartleys Direct
They offer their clients storage, shelving, chairs & stools, tables and accessories. Their website also allows users to search their products by style, type of room or what's recently been added. Hartleys Direct also has children's storage and furniture options made for their sizes, fun and full of colour as well. And if you are looking for help and inspiration to design your ideal home, you can head over to their blogwhere you will find all kinds of interesting ideas for your spaces. Hartleys Direct UK shipping costs are £4.95 for standard deliveryand take around 2 to 3, or you can also ask for an express delivery for £7.95. If you are not satisfied with your purchase, you have a 30-day money-back guarantee with a full refund in all their products.
Compliments, Complaints and Tips for Hartleys Direct
If you already have experience buying from Hartleys Direct, maybe you can share with other customers some of the details: was it easy to purchase from their platform? Did you find the prices of the items to be fair? Did you find their products to be of good quality? Did you find the payment process and delivery to be safe, simple and straightforward? Your feedback can be really useful to other readers so they can get honest information from real customersand decide whether this company is going to be the right one to design and customize their home spaces.