Reviews Furniture@Work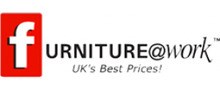 Office furniture is something no-one really thinks about at their work. Desks, chairs, drawers, and cabinets are just there to be used, but no-one gives any further thought to these important aspects of offices. If your desk chair starts to malfunction or breaks, will you call your maintenance manager to fix it? What if you have a small company and you need new chairs? What if your company expands and moves to bigger premises, requiring more office furniture for new employees? Suddenly, your searches for office furniture can seem daunting and confusing. Which online office furniture store's products do you trust for durability, comfort, and quality? There are many of these businesses, and you might have come across the name Furniture@Work. Are they a reputable company? Are their products of a high-quality? Only real-world customers of Furniture@Work will be able to tell you the answers. Reading these customer reviews will help you to know exactly what to expect from this company.

About Furniture@Work
Furniture@Work was started in 2000 in Glasgow, Scotland. This online office furniture store delivers office furniture to private homes and businesses throughout the mainland United Kingdom. It offers customers a choice of over 500,000 products to choose from to suit their style, office space and budget needs. Customers can shop for products via categories home office furniture; home office desks; office chairs; office desks; office furniture collections; desk drawers; filing cabinets; lockers; office cupboards; office bookcases; office storage; meeting tables; boardroom tables; folding tables; reception furniture;office screens; school furniture; notice boards; whiteboards; bistro furniture; breakout furniture; burglary and fire safes; shelving; and racking.

Products and Services of Furniture@Work
Furniture@Work accepts payment from credit and debit cards and holders of business accounts with this company can also make payment via cheques. They offer a 30-day business account to allow greater flexibility for businesses. All items are shipped free of charge to mainland UK addresses. Customers can choose alternative shipping options in the checkout process including Express Shipping and a Deliver-and-Install service. This company offers a 5-days returns policy. Exchanges are free of charge and in the case of returns, refunds are paid within 30 days.

Compliments, Complaints and Tips about Furniture@Work
Have you or your business purchased office furniture from Furniture@Work? Did you find their website easy to navigate and access their products? Did you need help from one of their customer service agents and if so, were they friendly, helpful, and professional? Was your order delivered on time? Did they install the furniture for you? What do you think of the level of quality of their products? Did you need to exchange any items? Would you recommend Furniture@Work to friends and other businesses? We would love to read about your experiences and feedback (positive and negative) about Furniture@Work. Your customer review will help other would-be shoppers learn more about this business and its processes so that they will know whether to shop at this company. Reading other customers' reviews will offer info and tips on products, their services, and insight into their level of customer support.
All about running a ONLINE SHOP + quick office tour! ~ Frannerd