Reviews Furniture in Fashion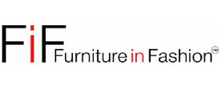 of these products. Their craft, their functionality, the style the designer chose for it, its originality and its ergonomics. Other times you really appreciate the beauty of a hand-crafted object, or maybe it's sustainable and with natural materials, or that it is simple yet elegant. It is really pleasant to come across an object designed which meets all of your criteria, especially if the object feels timeless and integrates easily into your space and daily activities. If you visit Furniture in Fashion | FiF's website, you will not be able to ignore the broad variety of furniture that they offer, but make sure to read our customer reviewsto find out if clients have felt satisfied with their products and services after shopping with them.
online shop with me (kinda fun)
About Furniture in Fashion | FiF
Furniture in Fashion | FiF is one of UK's largest online stores which offers high-quality, modern furniture and unique sets for the bedroom that include everything needed for your home interiors. Furniture in Fashion was established in 2007, making them one of the first online furniture retailers in the UK, and currently have a 60,000 square foot warehouse and showroom in Farnworth near Bolton and a strong online presence. Their massive warehouse allows them to stock a wide variety of products, even really big bedroom or dining table sets, and it is in part thanks to this that FiF has earned a good reputation with the general public. Furniture in Fashion has also recently launched a mobile app, making it easier for clients to shop more than 20,000 furniture products from the comfort of their tablet or phone. They claim their app is fast and has a user-friendly interface, and it can be downloaded from the Play Store and the iOS App Store. The App also features The Daily Deals which are constantly updated so customers can take these opportunities to purchase furniture in sale with up to 70% discount.
Products and Services of Furniture in Fashion | FiF
Some of the products that Furniture in Fashion | FiF provides are beds, drawer chests, nightstands, dressers, dressing tables, wardrobes, dining furniture, extendable tables, home theatre seating, bookcases, TV stands, home accessories and even bar furniture like bar stools, coffee tables and more. They also provide office furniture sets like executive chairs, computer desks and office storage cabinets. Furniture in Fashion offers Free Delivery service on all of their products to UK Mainland, with the exception of Highlands of Scotland, Cornwall, Devon and Somerset where there is an extra fee that applies. Delivery times vary depending on the size of the item, due to the courier they require to use. Light items can take from 2 to 3 days and heavy or large items can take 8 to 10 days. For the locations mentioned earlier, it may take between 12 to 15 working days. FiF can also provide a Two Man Courier Service if the client requires it.
Compliments, Complaints and Tips for Furniture in Fashion | FiF
Furniture in Fashion | FiF seems to be ahead of its competitors due to its experience in the sector and large stock of furniture products, but it would be great to hear from customers who have already purchased furniture from them to truly find out if their products and their services are worth the investment. Did you find their furniture to be of quality and long-lasting? Was their courier service on time and helpful? Would you recommend FiF to other clients? Other users would love to read your feedback and opinion, so don't hold back!