Reviews Electrical Discount UK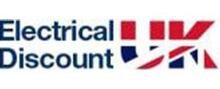 Are you searching for a new TV? Do you need a dishwasher, washing machine, or a fridge? Perhaps you'd like to shop for a camera and computer? Are you moving into a new home and need a new electric stove? Shopping for home and entertainmentappliances can be an exhaustive process. There are hundreds of brands and manufacturers selling products across different price ranges, with different applications and for different setups. The best platform to research these electricalappliances and gadgets is online, but where do you find the best price for your preferred product? Electrical Discounts UK is an online home electrical appliances and entertainment retailer that you might have seen in your search, but you've been wondering if it is a reputable and trustworthy company, how they work and what to expect from them. Reading real-world customer reviews of shoppers experiences with Electrical Discount UK makes it easier for a customer to know what to find in their online store and to understand their customer service assistance and expertise to make your buying and owning of their products better.

About Electrical Discount UK
Electrical Discount UK, also called EDUK for short, was established in the 1960s as a traditional High Street store. It established its online retail website in 1999 to distribute leading electrical home appliances at discounted High Street prices. It stocks leading brands and manufacturers including AEG, Bosch, Bose, DeLonghi, Hoover, Indesit, LG, Miele, Montpellier, Numatic, Neff, Panasonic, Philips, Ruark Audio, Russell Hobbs, Samsung, Siemens, Sony, Sonos, Tefal, Whirlpool, and Yamaha. Items available include home cinemas, tumble dryers, ironing appliances, washer dryers, cookers, ovens, hoods, microwaves, freezers, Hi-Fis, headphones, camcorders, home security systems, coffee machines, floor care products.

Products and Services of Electrical Discount UK
Electrical Discount UK offers customers a service plan for TV, DVD and Blu-Ray players, audio systems, White Goods, built-in products and vacuum cleaners. This service is available for products up to 5 years old and offers a zero-excess payment plan. They also offer finance payment contracts for with up to 12 months' deferred payments. Monthly repayments range from 6 months to 48 months. Payment methods accepted are credit and debit cards. Electrical Discount UK's prices are regularly 40 percent discounted off recommended retail prices. This company offers buyers free delivery to United Kingdom's mainland addresses and all products carry a full manufacturer's warranty. Deliveries usually take 1-5 working days. They offer a 14-day returns policy.

Compliments, Complaints and Tips of Electrical Discount UK
Did you buy any products from Electrical Discount UK? What sort of discount did you receive on your goods compared to a High Street shop? Did they deliver to your home on time? How were their delivery staff? Did you engage with their customer service department? Were their agents helpful and knowledgeable about their products and services? Would you recommend shopping at Electrical Discounts UK? Your customer review, rating, experience, and notes will help other customers to know what to expect when shopping online with Electrical Discount UK and better understand their customer service so that others can make informed decisions on whether to buy from Electrical Discount UK. Read other's customer reviews and ratings to learn about this company, its delivery service, and its guarantee on products.
All about running a ONLINE SHOP + quick office tour! ~ Frannerd