Reviews Direct Stoves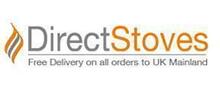 Stoves and fireplaces are one of the most amazing, hypnotizing complements a home can ever have, becoming always the focal point of any room and a place where people love to sit by to contemplate, tell stories and get warm. They can also be a great, cost-effective heating option. If you are thinking of buying a stove or any type of fireplace, you must make sure they are going to be high quality and long-lasting. Direct Stoves claims to be known for their excellent craftsmanship, quality and broad range of products. Read our customer reviews to find out what clients' experiences has been with the company and if they lived up to their expectations.
About Direct Stoves
Direct Stoves is a UK-based company that has been supplying the market with stoves for over 10 years. They stock a big range of stoves at very competitive online prices and also have a showroom based in Stockport Great Manchester. Customers can browse products ranging from wood-burning stoves, multi-fuel stoves, fire baskets and grates, cast iron fireplaces, Defra approved, boiler stoves, gas and electric, and all types of accessories for their stoves, in both classic and modern designs. They also have a new type of product which are being called Ecodesign Stoves, due to the fact that by 2022 all wood-burning stoves will have to meet the standards of the European directive on air pollution and particulate emissions known as Ecodesign. So anticipating this change of regulations they already have products that will meet all future European requirements.
Products and Services of Direct Stoves
At Direct Stoves they have around 25 different brands of stoves which can adapt to different budgets, styles and interior design ideas. Some of the most well-known brands which are included in their platform are Carron, Charnwood, ACR, Dimplex, Arada, Stovax and Verine. Direct Stoves offers free mainland UK delivery on all of their products and price match promise, so if you see one of their products at lower prices you can reach them at 0161 376 4181. The delivery times vary a lot, between 3 to 15 days, depending on which product you choose, so make sure to read carefully the product description when you are considering buying one. And if you are not completely satisfied with the product, you have a 14-day return margin with a full refund. Direct Stoves also offers its customers a buy now, pay later finance option, with payment deferred for up to 48 months. The payments can start 6, 10 or 12 months after the client has signed the finance agreement with just a settlement fee of £29.00, spend a minimum of £300 and place a 10% deposit. After that, Direct Stoves will offer clients various finance possibilities so they can spread the cost of their purchases.
Compliments, Complaints and Tips for Direct Stoves
Have you bought any of Direct Stoves' products or have you maybe had a product of theirs for a long time already? Are you a fan of them or did you maybe have a not-so-good experience with them? Can you maybe tell us what you thought of the delivery service? Share with us your opinion and feedback so other customers can make an informed decision for such a large, long-term purchase.