Reviews Direct Doors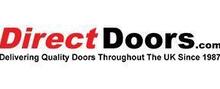 If you are looking for a place to buy doors and door furniture, it's best to find a place that offers all kinds of products like interior, exterior, latch and glass doors, so you can take a look at the whole range of products they offer and decide for yourself what best serves your current needs and what can possibly be of use for the future, as well. Plus, looking at a variety of products can also help stimulate your creativity and give you ideas that you wouldn't have thought about before finding a store that is worthwhile. Direct Doors seems to offer quite a variety of options and customisation possibilities, but read our customer reviews to find out if clients have found their products and services to be reliable and of quality.
About Direct Doors
Direct Doors was created in 1999 with the aim of providing customers with the perfect spot to shop for doors. They offer internal and external doors and frames which can be in standard sizes or customized, and all kinds of styles and sizes, with thousands of doors in stock. They have a showroom in Scotland and 46 different distribution facilities throughout England, Scotland & Wales. Direct Doors has put a lot of effort lately into making the online experience very dynamic and practical, so they can allow for more trade and customization features for their clients. They haven't, however, forgotten about the importance and usefulness of their showroom, which they have also kept up to date to make its logistics always more efficient.
THE ONLINE SHOPPING CHALLENGE *Sisters Buy Each Other Outfits! Lockdown Loungewear | Ruby and Raylee
Products and Services of Direct Doors
Direct Doors offers a wide variety of products for interior and exterior doors including pocket doors, victorian doors, patio doors, french doors, glazed doors, sliding doors, bi-folding doors and panel doors. They work with materials like oak, mahogany, aluminium, and PVC, among others and also provide a huge range of door furniture such as door handles, hinges and locks with all the security features. Plus, Direct Doors doesn't just supply standard sizes of doors but offers a very flexible customization service. Clients can look at their DIY Advice page in which they offer basic advice on fitting doors, but they also recommend seeking advice from their customer service team via fax, phone or email at info@directdoors.com to make sure that you are making the right decision. Direct Doors has free deliveries throughout mainland UK, they can ship to the islands by request with an extra cost and they have thousands of products for which they can offer Next Day delivery.
Compliments, Complaints and Tips for Direct Doors
If you have already chosen Direct Doors as your preferred supplier, we hope you have had a positive experience with them and we'd love for you to share your opinion with other customers who are thinking about buying from them. Are you happy with the door or door furniture you purchased? Did their services make the purchasing and shipping of the door or door furniture easier, effective and comfortable for you? Do you have any complaints or tips for Direct Doors? Share with other readers all the details, your feedback will surely be appreciated.