Reviews Bennett Winch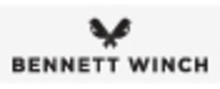 When looking for the perfect bag for work, the weekend escape or a long trip, it's great to find one that is properly designed to be timeless, functional and of good quality. So many accessories and items that we buy nowadays in hopes that it can last us a long time end up being badly built and of materials that are not resistant, so before you make a decision, do your research and make sure that what you choose is made to withstand your everyday activities and your trips. Bennett Winch's approach to quality bags and accessories seems to mix practicality, elegance and customer service in a successful formula, but don't miss out on our customer reviews to find out if they had a positive experience with the products and services this young company offers.
About Bennett Winch
Founded in 2014, the Bennet Winch brand creates high-quality and adaptable luggage and accessories for men and for all occasions. Each product they showcase is handpicked and put through daily life trials (they try out the products themselves) to meet their criteria and vision. They are handmade in England using traditional skills and materials and aim at customers that recognize the value of minimalism, of owning fewer but luxurious items. For example, they use 24 oz. dyed, bonded and brushed waterproof cotton, full-grain leather handles, solid brass hardware and brass zippers. Their materials and functionality create a collection of products that have an elegant and classic style. Their products have been reviewed and featured in GQ, Esquire, The Telegraph, How To Spend It, The Times and more.
Products and Services of Bennett Winch
The main range of products consists of weekend bags, briefcases, holdalls, backpacks, tote bags, garment carriers and wallets. And not only do they promise to sell quality products of high-quality materials but they make a promise to their customers that they will take care of any repair work that your Bennett Winch bag may need for as long as you own the item. As a customer, you can simply email them on info@bennettwinch.com with a description and pictures of the repair work you need, include your order number and they will get back to your with the next steps to take. If it is a manufacturing defect, they will repair it for free and if it due to natural wear, they claim to offer a paid repair service at a reasonable cost.
Compliments, Complaints and Tips for Bennett Winch
If you have already purchased a Bennet Winch's item, your insight and feedback would be really useful to other potential customers who are making their own research into the brand before making their decision. Have you found their bags or accessories as practical and long-lasting as they claim their products are? Are you happy with your bag and would you buy more products from them in the future? Have you maybe had to use their repair services and, if so, were they attentive and helpful? Share all the details of your experience with other readers!