Reviews Bedworld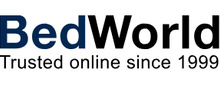 Getting in a good night's sleep is not only important to maintain a healthy lifestyle, but it important to allow your body time to rest, recover and grow. No matter your age, sleeping on a quality, comfortable and spacious bed makes all the difference. If you've ever slept poorly on a hotel bed, or at family, or even your bed is uncomfortable, you'll know the value of a quality bed and a good night's sleep. New pillows won't make up for an uncomfortable bed and you might have been searching for a new mattress to come across the name BedWorld. You might be wondering whether BedWorld's products and services are worth considering for your next bed, and our customer reviews, experiences and insights will be able to guide you in your next purchase decision.
About BedWorld
Founded in 1999 and headquartered in Huddersfield, West Yorkshire, England, BedWorld has 14 stores across the United Kingdom in Huddersfield, Hull, Lincolnshire, Dudley, Cardiff, Scunthorpe, Bristol, Essex, Chesterfield, Eastbourne, Birmingham, London, Brent Cross, Gateshead. They also offer an online shop to make finding, buying and delivering your next bed an easy process. All beds and mattresses are designed and manufactured in-house. BedWorld's range of products include mattresses, divan beds, bed frames, headboards, kids' beds and bedroom furniture.

Products and Services of BedWorld
BedWorld's website allows shoppers to find their next bed or mattress by selecting the range of mattresses such as pocket sprung, memory foam, latex, adjustable bed or futon-type mattresses. Users can then select the mattress size from a small single short, to a 2'6 small single, to sizes including 7ft, 8ft and 6'0 super king size. Shopper can choose the mattress tension from being firm, medium, medium-firm or soft. Shoppers can also search for divan beds in the same way to find and buy their ideal bedroom furniture. If you're searching for a bed frame, BedWorld offers 10 different types ranging from Ottoman beds to wooden beds, leather beds and TV beds too. Headboards are available in different sizes, colours and materials to suit your bedroom's colous and theme. For kids' beds, BedWorld lists four categories: bunk beds, kids' divan beds, kids' mattress; novelty beds. If you're searching for bedroom furniture such as wardrobes, chest of drawers, bedside tables, storage solutions, dressing tables, and stools, BedWorld offers a selection to suit wide tastes, styles and budgets. When completing an online purchase, shoppers can make use of BedWorld's in-house delivery service. There are 3 delivery types: Standard Delivery takes 2-6 working day; Express Delivery takes 24-48 hours; Weekend Deliveries. Delivery charges are applicable. BedWorld also offers users a comprehensive returns policy for unwanted goods and damaged/faulty items.

Compliments, Complaints and Tips about BedWorld
Have you bought a bed, mattress or bedroom furniture from BedWorld? Did they deliver your order? How did you find their online shopping service and how did you find their checkout and payment process? Were you satisfied with their products and quality? Would you recommend BedWorld? We would love to hear from you about your shopping experience and your reviews about BedWorld's products and customer service.

Read other customers' reviews about BedWorld to gain more insight into this business and its products before shopping on their website.
buying my dream wardrobe… online shopping + try-on haul *CLOSET MAKEOVER*