Reviews Bedfolk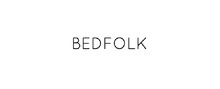 When shopping for new bedding did you find the process confusing, expensive and complicated? Did you find the right sheets and duvet covers you wished for or did you settle for the ones you spotted first? What about understanding the different styles, weaves and materials? Going online usually helps shoppers to better learn what is available, but it can also lead to further confusion. Bedfolk is a name you might have crossed in your searches for bedding. This online retailer specialises in all things bedding. It is a direct-to-consumer business offering customers easy-to-use online shop to buy bedding to suit their bedrooms' themes, colours, styles and within budget. Available are duvet covers, pillowcases, and sheets in four different material types, colours, and 4 sizes. If you've wanted to change your bedroom's bedding and wondered about the quality of Bedfolk's products, you can read about that from our customers' reviews, experience and customer service.

About Bedfolk
Bedfolk was established by husband and wife Nick and Jo James in 2018 with their facility located in Cheltenham, Gloucestershire, England. This company has been accredited with Oeko-Tex certification, an environment standard that ensures that no harmful substances or chemicals are used in any stage of their manufacturing process. Bedfolk's products are made from high quality 100 percent cotton or 100 percent linen and are manufactured in a textiles mill in Guimaraes, Northern Portugal which itself has been supplying materials for more than 70 years. Shoppers can purchase items individually, as a bundle, purchase gift cards and Bedfolk also offers a care kit to preserve your bedding and reduce its drying time with wool dryer balls. There is no need to shop for different thread counts, material types, material blends, or weaves: all products feature 300 thread counts and Bedfolk have simplified the shopping process further to offer three cotton bedding styles of Relaxed, Classic, Luxe.

Products and Services of Bedfolk
Buyers can shop for bedding by searching for products categorized by material type or product type. Colour choices are limited to 3 and then to complete the selection buyers can choose their bedding size from single, double, king and super king. Browsing Bedfolk's website, shoppers are able to order and pay for their chosen bedding securely and safely using credit or debit cards, direct bank transfer, or using express services ShopPay, Google Pay, Paypal, or Amazon Pay. Shipping and returns are free services from Bedfolk to addresses in the United Kingdom. They make use of courier services to deliver orders to your home. Deliveries usually takes 2 business days. If shopping from outside of the UK, deliveries take 5-6 working days. Bedfolk offers a 60-night risk-free trial period for all products: if customers aren't satisfied with their products, they can return to Bedfolks for a full refund.

Compliments, Complaints and Tips about Bedfolk
Have you purchased bedding from Bedfolk? What items do you use and how do you find their quality? How did you find their online shopping and checkout process? Did they deliver on time? Would you recommend Bedfolk? We invite you to please leave your comments, experiences and reviews of Bedfolk, their products and customer service. Read other customers' reviews and experiences of their products, the returns process and customer care support.
घर बैठे लाखो रूपए कमाओ धूम मचा दो | खुदका Online Store बनाओ | Wooplr के मदत से