Reviews 4Gadgets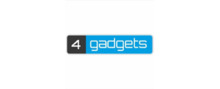 Are you on a mission to upgrade your smartphone? Which one do you buy? Do you even contemplate looking at the second-hand mobiles available? How would they fare in quality after being used by someone else? Which online retailer would offer guarantees on functionality and quality? When someone upgrades their handset to the latest model, what happens to that smartphone? Some businesses buy refurbished and usedgadgets, repair and restore them to like-new condition, and resell them. One of those is 4Gadget: it offers second-hand gadgets at value prices. Reading reviews of real-world customers of their experiences with 4Gadget will allow would-be shoppers to learn whether this business is trustworthy, if their products offer good value, the condition of their second-hand smartphones and other gadgets, and their customer service to help them to decide on where to order their next gadget.

About 4Gadget
4Gadget was started in 2015 in Harlow, Essex, England. All refurbished and second-hand items undergo strict testing procedures, are checked against the GSMA Stolen/Lost Database, and that the following features of each smartphone are fully functional before selling: case condition; screen condition; buttons; headphone ports; charging ports; speakers; earpiece; microphones; touchscreen LCD for clarity and touch response; WiFi and Bluetooth connectivity; cameras; SIM reader and network connectivity; USB port; battery; accelerometer; and fingerprint reader. 4Gadget also sells tablets, smartwatches and other wearables, and accessories. Products from brands such as Apple, Google, HTC, Huawei, LG, Motorola, Nokia OnePlus, Samsung, Sony, Xiaomi, ZTE are available, with their most popular products for sale being the iPhone X and iPhone XS Max, Galaxy Note 10, Galaxy S10 and Galaxy S10 Plus, GoPro Hero4, the Observer 1080p Dashcam, type C to 3.5mm Headphone Jack, Apple USB Lightning Cable, Power Banks, EarPods.

Products and Services of 4Gadget
All products offered on 4Gadget's website are available with a 12-month warranty and customers to have a 14-day money-back guarantee. 4Gadget uses a free next-day delivery service for orders over £40. Their customer service department is open on business days from 9am to 5pm to assist with any queries or claims. 4Gadget also offers free returns shipping. 4Gadget grades each product: Pristine (as good as new); Excellent (minor signs of usage); Very Good (signs of minor cosmetic wear); Good (minor signs of wear on screen and casing); Renewed (refurbished by the manufacturer); and, New. Payments can be made with debit and credit cards and Buy Now Pay Later services from PayPal Credit and Klarna are accepted.

Compliments, Complaints and Tips about 4Gadget
Have you bought a handset from 4Gadget? Were the grades accurate in describing the condition of the second-hand smartphone or gadget you ordered? Did the gadget work properly? Were you able to exchange it or ask for a refund if it was faulty? Did you claim on their warranty? How was their website's checkout process? Did they deliver your order the next day? Would you recommend 4Gadget to friends and family? We would love to read your feedback and experience with 4Gadget. We invite you to please leave a review, rate 4Gadget and describe your interactions and opinions of their products, their delivery, and their customer service. Read other customers reviews to learn exactly what you can come to expect from 4Gadget.
Tips dan Trik Memulai Online Shop! Part 1 | Sampan Mimpi #SharingGaring Eps. 1