Reviews Foodspring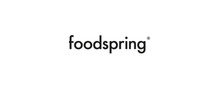 Eating healthily is the foundation of a healthy body and lifestyle. Without putting the correct fuel into your body, your health will decrease. You might be eating three meals per day, but are you eating foods with the highest nutritional benefit for a balanced diet? Perhaps you're a sportsperson looking to build endurance, strength or to lose a few kilograms, and you're looking to optimize your diet. You might have come across online diet shops selling supplements, sports nutrition, superfoods and weightloss products, but you're unsure about what you should be buying and using for your body. A name you may have seen is Foodspring. This company offers health and nutrition for professional athletes, enthusiast sportspeople weight-loss practitioners and also people following strict diets based on their health requirements. If you're looking for information on the quality of Foodspring's supplements, raw ingredients, the nutritional benefits of their health shakes, or about their delivery processes and their customer service, you will find real-world customer reviews and experiences about Foodspring to make an informed decision before shopping on their website for your next range of supplements, muesli and smart cooking products.

About Foodspring
Foodspring was created in Berlin, Germany and source 96 percent of their ingredients from German suppliers for their raw ingredients and materials. This company has attained HACCP, ISO and BIO quality standards for their processes and health systems. Operating as a supplements provider and diet shop, Foodspring make use of science-based nutrition to create their range of products and procure their ingredients from organic suppliers. Its range of products includes protein shakes, supplements such as vitamins and minerals, snacks and health bars, muesli and oats porridges, sports drinks and smart cooking products such as pasta, bread ingredients, and peanut butters. Foodspring also offers healthy recipes on their website for followers of diets such as low-carb, gluten-free, vegan, low sugar, paleo, organic and soy-free eating plans.

Products and Services of Foodspring
On Foodspring's website, users can purchase products by type, in single items or in pre-packaged bundles. The website also offers value packs in the form of bulk purchases. When searching for foods or drinks, shoppers can filter their searches by categories according to their nutritional objectives such as muscle building, endurance, body shaping or healthy living. Shoppers can select products via their properties such as vegan, low sugar, organic, soy-free and even filter searches further for time of day for optimal nutritional benefit such as mornings, evenings, before workouts or in-between meals. Foodspring's website offers a free body check for shoppers by filling out a questionnaire to learn about their diet habits, their BMI (Body Mass Index) and the user's nutritional and health goals of healthy living, shaping, or muscle building. The Body Check offers products and nutritional advice for users to meet their objectives. Foodspring offers free shipping for orders over £50.

Compliments, Complaints and Tips about Foodspring
Have you used Foodspring's website before? Have you purchased any dieting foods or supplements from them? How is the quality? Did you find their website's online shop checkout process easy-to-use? Would you recommend Foodspring? We would love to hear your feedback about this company, its products, shipping processes and about your customer service experience.

Read other customers' reviews about Foodspring to learn more about their supplements, which raw ingredients are best, their diet plans, which recipes are quick to make and how their customer service department deals with customers.
Thyroid Diet Plan For Weight Loss In Hindi | Weight Loss Thyroid diet plan In Hindi|Lose Weight Fast