Reviews Al Fresco Holidays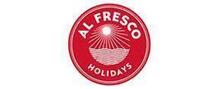 Do you want to take your family for a holiday in Europe? Are you looking for a holiday destination that offers family activities, outdoor fun, waterslides, swimming pools and more? You might have searched the Internet and seen the business name Al Fresco Holidays in the results and wondered about their accommodation quality, their fun and amusement activities for children and their value for families on holiday in Europe. Read real-world customer reviews and experiences about this online holiday company, it's packages, customer service so that you will know just what to expect from their holidays.

About Al Fresco Holidays
Al Fresco Holidays was founded in 2003 by Thomson Holidays. It operates in 6 European countries, namely France, Italy, Spain, Croatia, Holland, Austria and offers 71 destinations for guests to choose from for their next holiday and family trip. Al Fresco Holidays offers family mobile home accommodation in parks for families looking for entertainment and activities for the whole family. Their parks are within in popular towns and close to cities allowing guests to explore their surroundings and experience the local cultures.

Products and Services of Al Fresco Holidays
Choosing a holiday destination with Al Fresco Holidays can be undertaken by selecting which country you'd like to stay in, which city or region and then selecting a park you prefer. Parks offers water parks, play areas, children's entertainment and enable guests to visit their surrounding attractions such as beaches, cities, cycling, hiking, theme parks. Mobile homes available offer accommodation with 2 or 3 bedrooms, fully furnished fittings, outdoor living furniture, large beds such as queen sizes in the master bedrooms, and even an XL mobile home size that features bedrooms with en-suite bathrooms, dishwashers, and extra living space. Destinations also offer dog-friendly accommodation. Their website also offers travel information and assistance to aid guests with info on travelling to their destinations and parks via ferry, Eurotunnel, by flying, train, or self-driving. Al Fresco Holidays offer payment services for debit and credit cards and require a deposit to secure bookings. Balance of payment is due 12 weeks before your holiday.

Compliments, Complaints and Tips about Al Fresco Holidays
have you stayed in one of the parks owned by Al Fresco Holidays? Have you travelled with this company? How did you find their online booking system? Were you able to pay with your preferred payment service? What did you think of their accommodation? How did you find their entertainments and amenities for families? Were your children able to enjoy all the facilities? Would you recommend Al Fresco Holidays? We invite you to please write your experiences, ratings, opinions, and notes on your holiday with Al Fresco Holidays. Read or customers' real-world reviews and experiences of Al Fresco Holidays' mobile homes, the entertainment, their staff and their customer service so that you can have a greater insight into their destinations and service to make an informed decision on whether or not you'd like to book a holiday with Al Fresco Holidays.

Read other customers' reviews here to find out which parks offer the best value, which cities to stay in and which are the best travelling tips too.
Holidays Remix 2019 - DJ ARS Remix (One Night 88)