Reviews Homeward Legal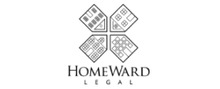 Have you attempted to purchase a house? Apart from the search process and the bank finance system, the legal aspect of property buying is complex and costly. Buying, selling and investing in property is a heavily regulated industry and for good reason: property is the most expensive transaction and asset in many people's lives. The property industry has been one that has seen changes to its operations through technological disruptions, but there are some aspects of this process that cannot be transformed. The transfer of property from buyer to seller is a process called conveyancing. To find a reputable conveyancer who is able to assist you is difficult enough, but to manage all aspect of the process takes patience that home owners simply don't have when in the time-sensitive matter of applying for bank loans, moving and completing other legal processes. When searching for a firm of conveyancers, you also need to include solicitors, money lenders, local authorities and estate agents. The name Homeward Legal may have appeared in your searches and in conversations with your estate agent, but you would like further information from customers, their reviews, opinions and insights on the different services, the expected costs and their customer service before you engage them in business. Here you can read real-world experiences from customers about Homeward Legal to make sure you know what to expect when searching for legal services with property buying, selling or investing.

About Homeward Legal
Founded in 2011, Homeward Legal is a conveyancing company headquartered in Kettering, Northamptonshire, England offers services to property buyers, sellers and investors. This company forms part of the NAHL Group and is regulated by the SRA to offer protection to clients. Homeward Legal operates in England and Wales by partnering with property solicitors to create low-cost legal advice and services to home buyers and sellers. They offer a network of more than 200 solicitors to help clients with the purchase, sale, remortgaging and transfer of equity of properties through an online platform that creates fixed-price quotes.

Products and Services of Homeward Legal
By taking the complex process of property conveyancing into the digital sphere, Homeward Legal offers online services for legal services for home buyers, seller and investors. Homeward Legal's services focus on conveyancing and their website offers a hub of legal advice, insight and services for first-time home buyers. A panel of more than 200 solicitors across England and Wales means that Homeward Legal offers a 7-days-a-week service to clients.

Compliments, Complaints and Tips about Homeward Legal
Have you used Homeward Legal's conveyancing services when buying, selling or investing in property? What do you think of their services? How did you find their online communications and processes? Were you able to quickly and easily negotiate your journey through to completion with Homeward Legal? How did you experience their customer service? Would you recommend Homeward Legal? We have real-world customers offering their experiences, reviews, ratings, notes and opinions about dealings with Homeward Legal, and we would like to invite you to please leave your comments and reviews too so as to better inform other customers about what to expect when engaging in business with Homeward Legal.
Mickey Mouse Shorts - No Service | Official Disney UK HD