Reviews The Heating Boutique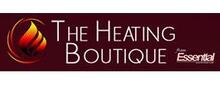 With winter here, many of us are searching for ways to renovate or install heating systems in our homes. It is important that you choose this wisely since you do not want to take any risks with your heating systems failing or not being up to standard, especially in the middle of winter. The Heating Boutique seems to offer a well-rounded service of quality products, experience, good customer service and good delivery and returns service. Read other customer reviews to find out what their experience has been at The Heating Boutique and get some insight and feedback.
About The Heating Boutique
The Heating Boutique, a part of Essential Commerce Limited, is UK's market leader offering quality radiators and heating systems. Their extensive industry experience being involved in the heating sector has allowed them to gain a lot of knowledge about customer's needs and wants, what services customers expect, what is in style and how to offer the lowest market prices. They have made a point of setting themselves apart by providing high-quality customer service to make it a pleasant, stress-free experience for customers. They have quick delivery times, good returns and guarantees and a team of experts, with experience in the field and clear knowledge of their products, available from 9 to 5:30 pm to help out their customers.
Products and services of The Heating Boutique
Some of the products that they provide are bathroom radiators, towel rails, column radiators, central heating radiators, designer radiators, electric radiators, chromed radiators, stainless steel, traditional, vertical and horizontal radiators, radiator valves and accessories to compliment the customer's home and products. They come in many styles, sizes and colours so the products can complement appropriately the customer's home. All products have EN442 Certification and CE approval. They also all come with free delivery and the same dispatch day before 1 pm in Mainland UK. When browsing their website, if you want more information about delivery and timing, once you have added the items to your shopping basket, to the right of the image and above you will see three bold headers that will inform you about Delivery, Availability and Delivery Time of the product you have selected. Another interesting feature of their products are 100% free and unlimited returns, and no restocking fee or any other extra charges. All The Heating Boutique asks for is that the customer returns the item in new condition and its original packaging. The website also offers a BTU Calculator service. The British Thermal Unit measures the appropriate amount of energy, therefore, heat, your radiators need to heat any room of your house. The only thing you have to do is fill out a form with the data of the room you are interested in heating and the BTU Caculator does the rest for you.
Compliments, Complaints and tips forThe Heating Boutique
Have you already done your shopping at The Heating Boutique? If you have, we would love for you to share your opinion and experience with other users who are also looking to buy from them. First-hand accounts are very important to get a full insight and feel confident when shopping, especially when it's done online.