Reviews Shoe Embassy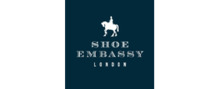 If you are looking for the next leather shoes with unique designs, colours and quality leather, at Shoe Embassy they offer a very interesting variety of designs. Shopping online can be quite stressful, especially because you are given too many options. If you like their unique designs and are wondering whether they offer good services and guarantees too, we recommend you read other customer reviews to find out their level of satisfaction with their purchases through Shoe Embassy.
About Shoe Embassy
Shoe Embassy started out in 2011 and specialises in ladies and men's footwear and accessories that tend to stand out. Their shoes are made in Europe from the finest European leather. They offer a lot of variety for all tastes that keep the company well-positioned in the fashion game and allows customers to find something that goes well with their style. With them, you will discover a broad range of unique designs and colours with what are definitely distinctive styles, without ever compromising comfort, since their designs use the softest leather. They have stores in Greenwich Market, Camden Stables Market, Camden High St, Westfield's Centre Management Suit, Old Spitalfields Market and at Brick Lane's Up-Market.
Products and services of First Furniture
They provide men's and women's footwear, including shoes, boots, loafers, heels, brogues and sandals. Also accessories like handbags, umbrellas, belts, masks, shoehorns and shoe care products. And if you sign up to their newsletter now, you can get a 10% discount on your first order. For shipping, within the UK it takes around 3 to 10 working days, and it has a price of £3.95, with free orders with purchases over £150. For international shipping, the EU standard is also 3 to 10 working days and the cost of the shipment is £4.95, with also free orders with purchases over £150. For the rest of the world, orders can also be delivered within 3 to 10 working days and the cost is £5.95, and the same free shipping applies for orders above £150. They do warn that delivery duration can sometimes exceed these time frames due to various external factors. For exchange and returns, they want their clients to be able to try their products at home and have the opportunity to make a return if they are not satisfied within 28 days. All returns will be free of charge within the UK, but residents outside of the UK may have to pay for the postage charges. All returns may take up to 10 working days to be processed successfully and receive a refund or exchange.
Compliments, Complaints and tips for First Furniture
Are you familiar with Shoe Embassy's platform? Did you get your last pair of shoes with Shoe Embassy or have any kind of shopping experience through their website? Are there any good or not-so-good experiences with Shoe Embassy that you would like to share with us? Your opinion is very important for other potential customers who are looking to buy from them but still need more information and feedback to make an informed decision. Don't hesitate to share it with them!