Reviews Patırtı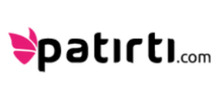 With the Internet revolutionizing the way we shop, e-commerce has come to offer many ways retailers can reach consumers and conduct business without the need for a physical store. Each day, more and more people prefer buying online. It is highly convenient, since you can shop from home with your pj's on, no need to wait in lines and it can be done in minutes. It can offer cheap deals because products can come directly from the manufacturer or sell without the need for a middleman. You can find more variety, which can sometimes make us dizzy, but you cannot complain about not having choices. It is an easy way to send gifts and customers also feel like they can have more control over what they purchase. Patırtı is an online retail store that offers plenty of variety of clothes but to find out if it should be your go-to store for fashion, read our customer reviews and find out what their experience has been shopping with them.
About Patırtı
Patırtı started out as a small retail shop in 2007 that sells quality and trendy affordable clothing and has gotten bigger through the years, opening an online shop in 2013 and becoming a leading shop in Turkey. If you are interested in selling through Patırtı you can do so by calling them at 0850-840-0048 or sending them all the information they require to Ortak@patirti.com.tr and they will get back to you. The information they require from you is that you tell them what kinds of products you want to sell, describe on what platforms you already sell your products, if you have a website, your stock and average profitability and your software infrastructure. It's a simple process and you will be able to sell your products through them in a short time.
Products and Services of Patırtı
Patırtı sells woman, plus size, man and underwear. They also have an interesting section called Couple Outfits for couples who love the fun art of fashion twinning, with many options available like sweat suits, sweatshirts, tracksuit sets, knitwear, jackets and more. With Patırt, your purchase will be shipped in a maximum of 4 days and be delivered to Europe in 5 to 12 days. Most countries, including England, get free delivery for orders over €100. If you need to ask for a return or an exchange, you can do so 7 days after your purchase and the return fees will be handled by Patırtı if it is due to a defect in the product, wrong colour or wrong size. With Patırtı there are plenty of payment methods available like Mastercard, Visa, American Express, PayPal, Sofort, Giropay, Deal and more. Customers can also place an order by phone on their WhatsApp line (+90) 5523810818, calling the number (+90) 0850-840-00-48 or through their Social Media. Before dialling or contacting them, make sure you have taken note of the product size and code (which is at the top right corner of the website).
Compliments, Complaints and Tips for Patırtı
Have you already shopped at Patırtı? Are you familiar with their products and services? We would love for you to share some feedback with other readers who might want to give shopping at Patırtı a chance but need to read some honest, first-hand accounts from other customers to make an informed decision.