Reviews Mark Birch Hair Loss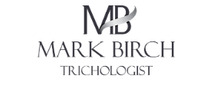 If you feel like you are losing more hair than you are growing, there are various elements that could be causing the problem. For example, it could be due to genetics, medical conditions, stress, age, nutritional, hair styling, harsh hair products or certain medications. Also, our current fast-paced lifestyles don't help us keep our body and mind in proper condition. If you are having hair and scalp related problems, then it's good to stop for a second and take your time to find the proper treatment for them. When doing so, make sure that the brand has experience and recognition in the sector and that the treatments have been effective on others. Read our customer reviews and find out if Mark Birch Hair Loss' treatments have worked on others and if they are happy with the results.
About Mark Birch Hair Loss
Mark Birch has over 35 years of experience providing customers with quality hair care products, specializing in the field of Trichology. Mark Birch was born into a family of hairdressers in London, he studied Trichology and graduated in 1985. Mark got recognition working at the Atkins & Law clinic in Mayfair, where he was able to treat severe cases of hair loss with great results. He also works with many trichological associations and institutions as a teacher and expert in the field, was President of the Asian Society of Trichologists and is a former chairman of The Institute of Trichologists. He has also been a consultant for members of Royalty and celebritiesfrom all over the world. At Mark Birch Hair Loss they do extensive scientific research and development to become experts in the field and they also offer personalized solutions. The Mark Birch broad line of products with their reconditioning and restoration formulas treat the cause of degenerative hair and scalp condition problems instead of just the symptoms. They also aim at providing a good service by helping clients understand what a healthy scalp is so they can have better hair growth.
buying my DREAM wardrobe (online shop with me!)
Products and Services of Mark Birch Hair Loss
Mark Birch Hair Loss products offer treatment for conditions such as Alopecia and Eczema hair loss with their lines that include Vitamin B5, Riboflavin Vitamin B2, Choline, Casein, Thiamin HCI (B1) and more. Some of the customer's favourite products include the Antibacterial Shampoo which is a scalp therapy,TR2 Scalp Therapy Lotion for thinning hair and hair loss, Anagen 10 Amino-Collagen Hair Booster, TR3 Double Strength Scalp Therapy, the Protein Hair Conditioner, the Antioxidant+ Supplement for improving the health of hair and scalp, the Serenoa+ and the Vit B+ tp keep your hair and scalp healthy. They also offer plant-based, vegan options for hair loss treatment and they are a part of the International Leaping Bunny program and the Vegan Society.
Compliments, Complaints and Tips for Mark Birch Hair Loss
If you have already purchased hair treatment products from Mark Birch Hair Loss, share your experience and opinion with other potential customers who will find your feedback useful to be able to make an informed decision based on honest and first-hand accounts. Did the products help you regenerate your scalp, stop hair loss or stimulate hair growth for you? Did you notice a clear difference before and after using their products? Would you recommend Mark Birch's treatment to others? Let us know what you think!