Reviews Made In Design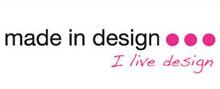 Are you looking for designer furniture? Do you need to decorate your office or hotel with new furniture? Interior decoration is more than simply just repositioning furniture and objects. Your style, taste, and theme ideas you'd like to project about yourself in your home or office are important: the wrong décor can transform customers' attitudes from positive to negative in just a moment, while the right home decoration can make any space feel more intimate, warm, and comfortable. On the other hand, there are many companies that promote their offerings as designer furniture for hotels, offices, and restaurants, but they're low-quality in manufacturing and are uncomfortable. You need to find a company that is trusted and reliable in its products, quality, shipping, and after-sales customer care, especially for an online designer furniture retailer. One such company you might have come across in your searches is Made In Design. By reading customer reviews such as those on this website, you will learn whether this company is reputable, its shipping policies, and its levels of customer service so that would-be customers will be able to make better-informed decisions before buying any items.

About Made In Design
Made In Design was founded in 1999 by Catherine Colin as an online retailer of designer furniture, lighting and décor products. Their headquarters are in London, England. Customers can shop for designer furniture for homes, offices, or hotels. Another aspect of Made In Design is that it works with manufacturers and designers by offering B2B solutions such as production planning, supply chain, and logistics services and consultation. Their website offers 30,000 products from 400 brands and 2000 designers from around the world. They manage 5 sites across Europe for speedy dispatch of orders and operate in 90 countries. In 2019, Made In Design joined the Printemps Group.

Products and Services of Made In Design
Payment methods available to Made In Design shoppers are credit and debit cards, PayPal, direct bank transfers, and gift vouchers. Made In Design operates a 14-day returns policy and a 14-day refunds process. 70 percent of their products are available for immediate dispatch and delivery to the United Kingdom. Shipping is divided into Parcels and Pallets. Parcels are shipped to any mainland United Kingdom address at a fee of £4.90 and delivery usually takes 4-5 working days. Pallet orders are shipped to mainland United Kingdom addresses from £14.90 and take 4-5 working days for delivery. Made In Design offers the services of a Personal Shopper to help customers selecting the best products for their home.

Compliments, Complaints and Tips about Made In Design
We would love to read about your feedback (positive or negative) and any experiences dealing with Made In Design. We invite you to please write a customer review as these will help other would-be shoppers to know exactly what to expect from Made In Design. Did you buy products from Made In Design? What was your experience of browsing their website to find your ideal furniture item? Did they deliver on time? Was the product in the condition and quality that you expected from their website's advertising? Did you make use of their Personal Shopper service and if so, did it help you to make better-informed decisions on your home's interior design? Would you recommend Made In Design to friends and family?

By reading other customers' reviews, you will gain insight into the latest design trends, new designers, and the best products for your home.
Top 10 INEXPENSIVE Places to Shop Online pt. 2