Reviews Chemist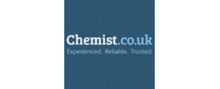 Online shopping for beauty and wellness products has grown enormously in the last few years, but it is estimated that 70% of medicines offered over the Internet in Europe are unsafe. However, it is understandable that it isn't always easy, especially nowadays with the coronavirus restrictions and difficulties, to visit the local trusted pharmacy. So when buying pharmaceutical products, you want a place that has the most experience and knowledge, so you are sure that it can offer you the best assessment and products in the market. To find out whether the Chemist.co.uk is the appropriate, trustworthy online pharmacy to go to, read our customer reviews and find out how positive or not-so-positive their experience with this online platform was.
About Chemist.co.uk
Chemist.co.uk, with their original pharmacy located in Whitworth, Lancashire, has been operating for over 75 years and now have a multi-channel business, presence on most major online platforms and their own online pharmacy as well. Their business is regulated by the General Pharmacy Council and is authorized to sell by the Medicines & Healthcare products Regulatory Agency. Chemist.co.uk only sources their products from major UK pharmaceutical distributors and manufacturers, so clients can feel safe when they order from them. Online shopping for health and pharmaceutical products has gotten more popular over the last few years and with Chemist.co.uk customers can be assured that the whole process will be treated with discretion, safety and maximum convenience for the clients.
TOP 10 PLACES TO SHOP ONLINE | FALL 2020 WARDROBE ESSENTIALS
Products and services of Chemist.co.uk
Chemist.co.uk offers online shopping for a wide variety of beauty and wellness products. Their platform is divided into the following sections: Pharmacy, Health, Mother & Baby, Beauty and Skincare, Men's, Toiletries, Sale and Brands. In their Pharmacy section you can find products from categories such as Pain Relief, Cough, Cold and Flu, First Aid, Foot Care, Hair and Scalp, Baby and Child, Ear and Eyecare, Specialist Scalp and Skincare, Mouth and Oral Care, Hayfever and Allergies, Tablet and Oral Solutions, Eye Drops, Nasal Spray, Creams and Itch Relief, Stomach and Digestion and a Sleep section. Chemist.co.uk claims to offer the lowest prices online and to be constantly updating their range of products by checking prices and new products daily, and updating theirs so they can always offer the best value and variety to their clients. They also continuously provide special offers and promotions. They offer free shipping on orders over £35 (although Northern Ireland delivery charges vary) or a £3.45 Standard UK delivery price for orders under it. They aim to deliver orders within 3 to 5 working days. If the customer is not satisfied with their order, they have a 14-day margin to return the item and receive a full refund.
Compliments, Complaints and Tips for Chemist.co.uk
Have you made your pharmaceutical purchases through Chemist.co.uk? Were you happy with their services and advice? Are you thinking of purchasing more products from Chemist.co.uk in the future? Was the product delivered on time? Purchasing pharmaceutical products can be a delicate business, please share your experience and feedback with other users who are thinking of using Chemist.co.uk's services in the future.