Reviews Boohoo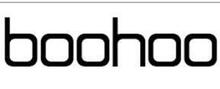 If you enjoy keeping up with the latest fashion, where items come in and go in a matter of days, and you keep up with the hectic rhythm of fashion shows, magazines and trendsetters, Boohoo might have the kind of fast-paced take of apparel that you are looking for. But nowadays there are so many platforms and brands that seem to offer interesting products and services that it is important to get first-hand accounts from other clients who have already purchased from them and can tell you if their services and products have met their expectations, so don't miss out on Boohoo's customer reviews.
About Boohoo
Boohoo is an online fashion firm founded in 2006 by entrepreneur Mahmud Kamani and designer Carol Kane, which offers the latest womenswear and menswear fashion trends inspired by catwalks, basics and street style, with up to a 100 new styles dropping daily. They decided to cut the middle man and set up their own store, aiming to sell the latest fashion trends directly and with low prices to its customers. They were also one of the first suppliers to Asos and designed and sourced clothes for Primark. The online fashion firm has also done pretty well during the lockdown, with a 45% increase in its sales. They also have extensive charity programmes, with charity sample sales, bake sales, charity-shop takeovers and more. They've dropped collections in order to make donations to causes like Pride and Breast Cancer Awareness Month and during the terror attack at the Manchester Arena in 2017 they helped fundraise for the Red Cross' victims fund. In 2020, the Boohoo group donated around $300,000 to charities helping with the devastating Australian wildfires.
places to shop online while in quarantine!
Products and Services of Boohoo
Boohoo's brand has over 10 million followers on social media and their products are aimed at 16 to 30-year-olds. They are retailers and also have their own brand of clothing and sell over 36,000 products. Some of the categories that you will find on their website are clothing, coats and jackets, dresses, tops, shoes and accessories, and more. Boohoo provides customers with many options to spread out your payments with Klarna, Clearpay and Laybuy. You also have various options for delivery, with a Standard Delivery for £3.99 and up to 5 working days, Next Day Delivery for £5.99, and two kinds of deliveries for Northern Ireland as well. Boohoo also ships internationally to the EU, US, Australia and more.
Compliments, Complaints and Tips for Boohoo
Have you already done some shopping through Boohoo's platform? Are you happy with the items that you have purchased? Have they been of good quality and long-lasting? Have their services been on-time and reliable? Please share with us your opinion and experience with this company, other potential customers are looking for first-hand accounts from customers like you to be able to decide whether they should make their purchases through Boohoo as well, and feedback from customers is also important so companies can provide better services and look for ways to improve.