Reviews Berrylook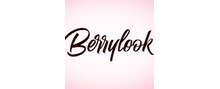 Fast fashion has many advantages and for consumers such as being able to afford many items and change looks often, being on top of the latest trends and being able to buy cheap and cut down on their spending, and that is in part why it's been so successful. It's fun to shop for new trendy clothes weekly! Fast fashion has remained popular especially because it can provide users with instant gratification and make users feel like they can dress similarly to what they see at runway shows in an affordable way. It has also brought a lot of technology and innovation to this sector, in terms of the way they manufacture, communicate, distribute and promote their brands. Berrylook is one global online store that delivers the latest fashion apparel to customers all over the world, with thousands of products with plenty of styles to suit every customer's interests. To make sure this brand offers its customers good service and quality apparel, we recommend you read our customer reviews and find out what their experience has been with this fashion store.
About Berrylook
Berrylook is an online marketplace and clothing store which provide the latest fashion trends to their customers. They have in stock thousands of products in various styles. From dresses to tops, bottoms, shoes, outwear, knitwear, accessories, boots, coats and swimwear for girls and grown women. They also have a men's section with outerwear, jackets, coats, sweatshirt, hoodies, shirts, t-shirts and vests, pants, shorts, men's accessories, belts, ties, hats, knitwear and bags. And a category dedicated exclusively to new items, another one for sales and one for the latest trends.
Products and Services of Berrylook
Apart from the broad range of categories and products that Berrylook, you can also be sure that the items can get to you anywhere in the world since they have a worldwide shipping service. They provide their services to North and South America, Africa, Asia, Australia, New Zealand all over Europe. For South America and Asia, orders can take anywhere from 7 to 12, whereas in North America, Africa, Australia, New Zealand and Europe it can take from 5 to 12 days. Shipping will be free for orders over $75 and you can also get a 5% discount on your first order. There is also an Expedited Shipping option where orders can get to you faster, in 2 to 5 days for most locations except Asia where it can take 3 to 7 days. They also have plenty of payment methods like Mastercard, Visa, Maestro, American Express, Giropay, PayPal and more.
Compliments, Complaints and Tips
Have you already done some shopping at Berrylook? Did the items arrive safely and in good conditions? Did you find the quality and style was similar to what you saw on their platform? Were you satisfied with the products you purchased? Your feedback can be very useful to readers who are curious to try out shopping through this platform but need other customers' opinion and accounts to make the final decision.