Reviews All Round Fun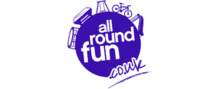 Do you want to add a trampoline, hot tub, garden swing or playcentre to your garden? Your children will thank you with many hours of playtime outdoors, laughter and big smiles. Leisure and play activities at your home for your children can make all the difference to their lives, their fun and their games - not to mention game tables and ride-on toys. There are many companies and businesses selling outdoor toys and games online; their website might profess all number of wonderful promises. What you don't know is if this company is actually trustworthy and if their products are safe for children and of a high-quality to last more than a few months. For that, reading customer reviews will help you to make better-informed decisions about companies and products. One such company you will come across is All Round Fun. Real-world customers have shopped at this company and left customer reviews on this website to help would-be shoppers learn more about this company's processes, products, and offer tips too.

About All Round Fun
All Round Fun is an online outdoor toys and games retailer that was started in 2005. It has offices in Manchester, England with a large warehouse just outside the city that distributes orders across the United Kingdom and Europe too. The owners of this company have been in business in this industry for more than 50 years. Customers can shop for indoor and outdoor play equipment, hot tubs, garden swings, playcentres, trampolines, swimming pools and water sports, game tables, ride-on toys. Brands in stock are Plum Products, TP Toys, Evostar, Bestway, and Lay-Z Spa. Shoppers can search for their ideal items by selecting categories such as product, brand, features such as LED lighting or outdoor, its size, price range and colour. Their range of water sports products includes water parks, paddleboards, fast set pools, frame pools, filters, pumps, and treatment kits. Their range of trampolines includes in-ground trampolines, trampoline ladders, and spares. Hot tub accessories and maintenance products are available too, with hot tub sizes ranging from 2 people to 8 people.

Products and Services of All Round Fun
Customers can use credit and debit cards and also make use of credit facilities with Klarna for purchases at All Round Fun's website. This company offers free next-day shipping to all mainland United Kingdom addresses. It also operates a 7-day returns policy.

Compliments, Complaints and Tips about All Round Fun
Have you bought any products from All Round Fun? We would love to read about your shopping experience and feedback on All Round Fun's products. We invite you to please write a customer review with your honest insight (positive or negative) about this company. Did you find their online checkout process to be straightforward? Were you able to find your ideal product easily on their website? Was the product's quality as you expected it to be from its advertising on their website? Would you recommend All Round Fun to friends and family?

By reading other customers' reviews, you will learn more tips about this company's products and their quality of customer service.
online shop with me!