Reviews 24s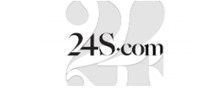 Are you looking for a store that sells luxury fashion brands that can really offer the latest trends, offer good services and be truly representative of what a high fashion store should be? For high fashion and luxury brands, one of the key strategies in this currently hectic world is to create long-term strategies, moving at a good pace but not forgetting the essentials, like quality service, understanding the needs of the market and keeping the customers happy. 24S is a store which has demonstrated through the years that they care about those values, but to truly find out if they live up to their own image and do keep their clients happy, read our customer reviews and find out all the details about their experience shopping at 24S.
About 24S
24 rue de Sèvres, or 24S, which is part of the Louis Vuitton Moët Hennessy (LVMH) group, is a department store that mixes well-known quality brands with young designers and has gained recognition for their curated product selection with which they reflect cultural values, style and uniqueness. In 2017 they also opened their global online store which showcases more than 300 fashion and beauty brands for women's and men's fashion, accessories, and beauty products. With their platform, they want to bring a piece of the Parisian lifestyle to users across the globe, with a carefully designed shopping experience and currently express shipping to over 100 countries.
How to Create an Online Store With Wix
Products and Services of 24S
The brands they showcase are Balenciaga, Bottega Veneta, Celine, Chloé, Fendi, Gucci, Isabel Marant, Jimmy Choo, Loewe, Louis Vuitton, Marni, Max Mara and Valentino. And both online and in-store you will be able to find a broad range of products such as dresses, jackets, tops, coats, jumpsuits, knitwear, skirts, pants, lingerie, shoes, bags, and accessories like jewellery, belts, scarves, and beauty products like make-up, body and hair care, skincare and fragrances. They offer free shipping for orders above 200€ (also above 200 pounds or dollars) in Europe and the United States, 300€ (also pounds or dollars) for other countries. With the Express delivery for the United Kingdom you can have your item in 24 hours and the cost is 9,5€, or customers can choose the Standard delivery which takes 2 to 4 days and has a 6€ charge. They also offer clients a 30-day guarantee with a full refund for their purchased items and simple and free return shipping.
Compliments, Complaints and Tips for 24S
If you are already familiar with 24S and you have done your shopping with them already, we'd love for you to share your experience and your honest insight about them. Are you satisfied with their customer service and shipping service? Would you buy from them again? Would you say you had a positive experience shopping at 24S or are there some suggestions and aspects that they could improve? Your feedback can be really useful to other users who are considering buying from this luxury store but want to make sure the investment is worth it.