Reviews Insure4aday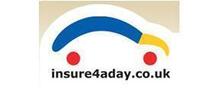 Do you need short-term car insurance? Has your car been impounded and you need cover for it? Are you about to undertake a business trip in your personal vehicle and require short-term business car insurance cover? Would you like to take a trip to Europe and need cover for your vehicle? Do you have a van and want to insure it? Do you have need for speed and want to attend a track day? There is a car insurance plan for you out there, but you need to search for it. Which company offers the best and most reliable comprehensive insurance coverage? One company you might come across is called Insure4aday. You might not know anything about this company and by reading their website you know what sort of plans they offer. What you don't know is whether this company is reputable, what sort of claim processes they provide, and their level of customer support. If you'd like to know the answer to those questions, you will find all the answer, compliments, complaints, and tips about companies like Insure4aday from reading customer reviews. The customer reviews on this website are what you need to read so that you will know exactly what to expect from Insure4aday.

About Insure4aday
Insure4aday is a short-term car insurance company underwritten by Tradewise Insurance Ltd, a part of Sky Insurance Group Services Ltd. It is based in Potters Bar, Hertfordshire, England. They specialise in insurance products with cover for 1-28 days for vehicles of all types. Covers include Daily Van insurance, Impounded Car insurance, One Day Car insurance, Weekly Car insurance, and 1-month car insurance. Their other plans include annual car insurance, annual learner drive assistance, business insurance, and track day insurance. Optional extra add-on insurance products are European travel extensions, motor breakdown services, motor excess protect insurances, motor excess reduction insurances, motorist uninsured loss services, and short-term learner drive insurance over.

Products and Services of Insure4aday
Payment methods available for customers are credit and debit cards. Customers can make use of their customer support centre and a wide range of guides for customers to find their ideal plans.

Compliments, Complaints and Tips about Insure4aday
Do you have an insurance policy from Insure4aday? Did you find it easy to browse their website for your ideal insurance plan? Have you used more than one policy and extended your coverage with this company? When you entered your details on their website was it easy and straightforward? Was their customer service centre staff friendly and helpful? When you submitted a claim, were they professional in their service to you and did they help you to correctly file a claim? Would you recommend Insure4aday to friends and family? We would love to read about your feedback (positive or negative) and experiences of dealing with Insure4aday. Please consider writing a customer review so that other would-be customers will gain insight into this company, its insurance products, and its levels of customer service.

By reading other customers' reviews you will learn more tips about this company.
Do You Need Health Insurance? I Pay $680 Premium for ACA Plan